Results of National Championships and coverage of Men's and Women's Nationals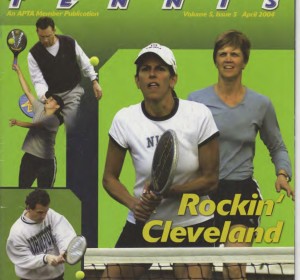 "You're gonna wanna be here!"That was the word coming out of Cleveland going into this year's National Championship, and after the fact it's hard to argue differently. If you weren't there, you should have been.
After an absence of more than a decade, the Cleveland paddle world stepped up to the plate and delivered a national title tournament to remember – impeccably organized, offering a spectacular Saturday night party and oh, by the way, some unbelievable paddle.
Both the Men's and Women's draws delivered on the promise of tremendous play inside the cages, as well as the answer to some intriguing questions surrounding the game's best players.
Can anyone beat David Ohlmuller and Chris Gambino? That had to be the question on the minds of many entering this year's National Championship, as the defending champs entered the tournament having dominated the paddle scene the past two seasons. Then, when Mike Stulac [2003 finalist with Bill Anderson became a last minute scratch due toairport fog, one had to wonder if there was a team left in the draw who could unseat the East Coast tandem. Well now we have an answer, and that answer is yes.
Flip Goodspeed and Scott Mansager captured yet another national championship after a magical 3-set final that took away the breath of all that had the pleasure to watch, as well as some of the players on the court.
"I'm numb," said Goodspeed right after the match. "I'm not sure how that [his finals victory] happened. What an unbelievable match."
After the first set, it would not have been a stretch to say that the likelihood of another Goodspeed/Mansager championship was improbable. Gambino and
Ohlmuller, behind 20 minutes of flawless paddle, cruised through the first set, 6-1. In addition to the great play of the defending champs, however, the first set was marked by some inconsistent play by Goodspeed. A handful of loose shots was all Gambino and Ohlmuller needed to close out the first set and start off the second with all the confidence of a team that had yet to lose a set in the last two national championships.
If Goodspeed's play had been somewhat sub-par going into the second set, however, that didn't last long. Not only did he cease to make unforced errors, but he began to assert his will over the match with his uncanny speed and quick hands. That, and of course nearly flawless play and monster forehands by Mansager. Mansager and Goodspeed grabbed an early break in the second set and battled to make it stand up, which they did closing out the second set, 6-4, on a disputed service-line call.
If spectators were pleased with the quality of the first two sets, they were in for a real treat entering the third. Long points, mammoth ground-strokes and lightning quick hands set the tone for the set. Not wanting to see any more of Gambino's forehand than was absolutely necessary, much of the play when Goodspeed and Mansager were at net focused on Ohlmuller's ad-court. Ohlmuller played strong, making his opponents pay dearly at times, but Goodspeed and Mansager took over the net with a ferociousness not common to many players on the circuit, if any. Unforced errors virtually disappeared. Positioning holes would momentarily appear, only to be closed a split second later. And even rocket-like ground-strokes suddenly became fodder for pillow-soft drop shots.
"You have to play those guys like that," Goodspeed said about his team's net play. "Otherwise they'll eat you alive up there." When the third set ended, 6-3, Goodspeed and Mansager had finished off an awesome performance, and put the finishing touches on a terrific men's draw.
Was last year's national championship title by Mary Doten and Susie Keane a fluke? After taking last year's championship title by storm, cruising through the draw as an unseeded dynamo, Doten and Keane entered this year's draw eager to show that last year's result was no one-time shot. Furthermore, unlike last year, this year's draw contained Sue Aery and Gerri Viant, winners of eight national titles since 1990.
Returning after a one-year "retirement," the presence of the unseeded Aery and Viant in this year's draw presented a formidable challenge for more than just the defending champions. In fact, because of their unseeded status, the draw set up for them to meet the number one seeded team of Hilary Debbs and Patti Hogan in the quarter-finals. That turned out to be an unfortunate draw for the top seeds, as they fell to what has to be the best unseeded team ever to step inside the cages, 6-1. 6-1.
That set up a final that would see last year's champ test their game against perhaps the best women's team ever. Coming into the final match, each team was playing well, losing just one set throughout the deep women's draw. The veteran team played well, but in the end Doten and Keane were too tough to handle. The defending champs won the final, 6-3, 6-4, proving once and for all that they are a team to be reckoned with in the years to come.
Off the court, this year's nationals was a tremendous affair. Tournament Director Brian McCreary and his committee put together a well-oiled machine, that saw the entire draw run smoothly."This was so much fun to be a part of," McCreary said. "I'd like to do it all over again next year."
Well that may be tough, as the tournament is booked up for the next nine years. But Cleveland certainly showed to the paddle community at large that paddle is alive and well in northeast Ohio, and that a decade away from Cleveland was a decade too long. Now the paddle world turns its attention to Pittsburgh, the site of next year's national championship. If that tournament is anything like this year's, it too will be an event you don't want to miss.
Source: Platform Tennis Magazine, Vol. 5, Issue 5, April, 2004