Cogswell builds second court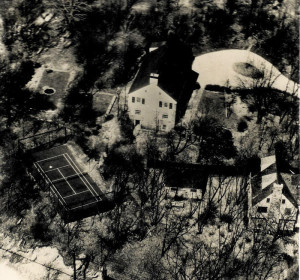 With the help of a rock wall and some fill, the original platform morphed to the current size of 60' x 30'.
Even with the larger platform and uneven bounces from the wire, the players continued the practice of playing the balls from the wiring. By this time, the wiring height had reached 12' and used a smaller one-inch mesh.
The Cogswell's held a party right before the demolition of the first court that included dancing on the "doomed" old platform.
Source: Adapted from Fessenden S. Blanchard, Platform Paddle Tennis, 1959