FMTC celebrates its 100th Anniversary and hosts National Senior Men's 45+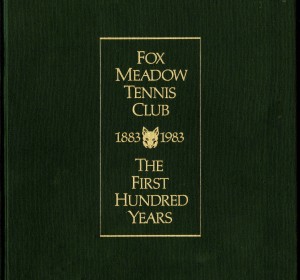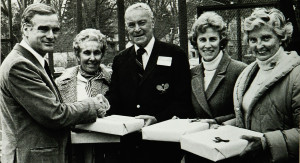 At the FMTC Centennial Celebration, Club President Charlie Evans presents awards to all-time winners Madge Beck and Dick Hebard. Molly Ware and Do Deland received awards for their fathers, Blanchard and Cogswell.
The club hosted the Men's 45+ Nationals, chaired by Bob Brown, and awards were presented to 38 FMTC members who had won National Championships.
The fact that entries had to be 45 years old or over seemed to give the gallery more empathy for the players, especially in the tense finals, won by Dick Squires and Bill Mimnaugh after tiebreakers in each of the three sets. Although it was disappointing not to have Fox Meadow finalists, many spectators felt the match was one of the most exciting ones they'd ever watched.
As former APTA President Cecil J. (Mike) North, Jr. of Bedford Golf and Tennis Club wrote in the program for an earlier Nationals:
"As platform tennis attracts greater numbers of players, expands geographically, and becomes increasingly money-oriented, I think it is important to remember why people played it in the first place: because it is informal, because it is fun. Fox Meadow is a reminder of these qualities."

Source: Diana Reische, Fox Meadow Tennis Club – The First Hundred Years, 1983