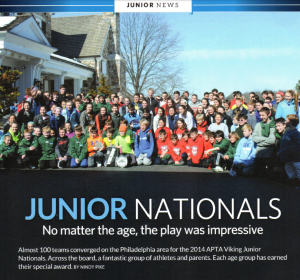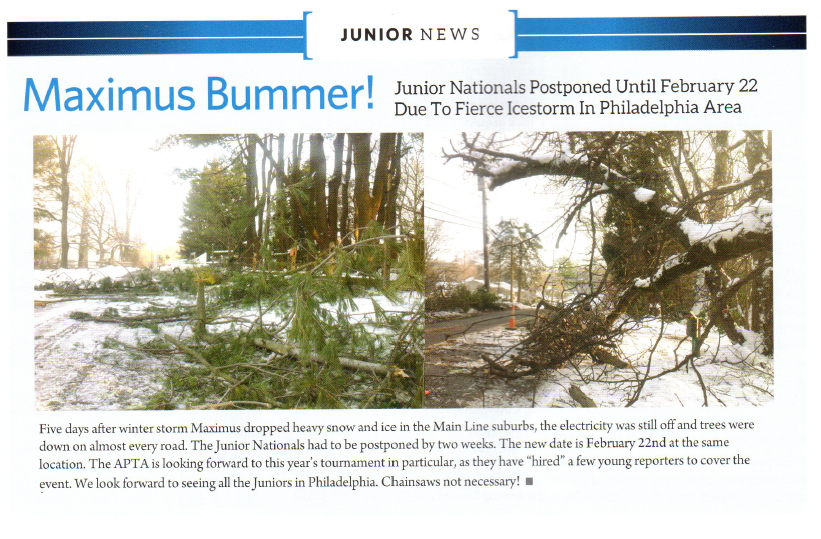 Despite the postponement almost 100 teams converged on the Philadelphia area for the 2014 APTA Viking Junior Nationals. Across the board, a fantastic group of athletes and parents. Each age group has earned their special award. Nindy Pike covered the event for PTM.



Boys 10 & Under: Where The Wild Things Are
What you might see on the court when young boys are on the court: sunglasses, puffy coats, loud high-fives, hunter-safety hats, dance moves. What you will definitely see: topspin drives, low screens, and some fist pumps. The champions, Charles Brossy and Griffin Cramer, have won four junior tournaments this season. The finalists, James Lorenzetti and Trevor Ramirez, have won one gold together, and one gold each with partner Charlie Stuhr. A small but mighty foursome. (Heard in the hut: "They are so cute, I could eat them up!")
Girls 12 & Under: Your Smile's So Wide
Ten teams, including some 10 & Under pairings, played at the St. David's Golf Club for the preliminary rounds. The upper deck offered great viewing of Court 1. Players waiting for their next match played net less rallies in the parking lot. One team's ball flew deep into the snow field, and both girls were searching for it when their next match got called. They laughed coming out of the thigh-high pile, and headed for the court with snow in their shoes. One match ended in cries of joy from one 10s player's mother, as the youngsters were able to win one game off their older and taller opponents. The final match, with Taylor Dean and Ava Ignatowich winning over Phoebe Brinker and Leah Walter, 6-4, 6-3, included ripper drives down the middle and high lobs, with both teams smiling and smiling.
Boys 12 & Under: Strategy-Fest
With 16 teams in the draw, the boys took over Overbrook Country Club and Aronomink Country Club for the early rounds. The final match was a strategy fest and a slug-fest. Aidan Donoho and Ty Brinker had only played a few times together this year on the paddle court, but many times on the tennis court. They took on perennial opponents, Marty Alexander and Harrison Kulick. Donoho and Brinker looked like the Bryan brothers, finishing points solidly, always communicating and low-fiving after every point. The first set went well for them, after the very first serve hit the nick. But Alexander, who gets high marks for his deep knee-bends, and Kulick, with some of the softest hands in the bracket, were both quick and steady, and rallied back in the second set, during a tense tie-breaker. Two back, offensive blitzes, 30-hit rallies, these kids did it all. Final score Donoho/Brinker, 6-1, 6-7, 6-3.
Girls 15 & Under: Twin Power Activated!
The Burkhart sisters had a large home crowd behind them, and that may have tipped the scales. Twelve teams faced off in the early rounds, with the final turning into a repeat of last year's 14s, with a three-set, high-intensity match. Callie and Catie Burkhart eked out a win over Emily Dardis and Alexandra Shay, who didn't give an inch for one minute. Shay's off-pace dipping return was tough to return. The sisters both had huge drive returns and soft drops in the middle. It was their third age group title in three years, having won the 14s and the 12s. "Catie is more aggressive," Callie said. "Callie has great lobs. We balance each other out," Catie said. "We communicate well, and it's easy to play together, since we are sisters. We stay positive, even when we are losing." For their part, Dardis and Shay may as well be twins, having played together in many Junior Nationals, winning the 12s in 2011, and being the daughters of long-time partners, Cynthia Dardis and Amy Shay. (The mom's won the APTA Women's 45+ Nationals that same weekend.)
Boys 15 & Under: Putting The Mental In Fundamentals
In a repeat of last year's 14s final, Will Cannon and Henry Fishman defeated Will Graham and Henry DeCoster in a very close two-setter, 6-4, 7-5. The champions have been playing together for five years now, coached by Guga Goncalves, who traveled from Connecticut to watch his menthes. Fishman commented, "We stayed patient. One thing that really worked was my partner hit his drives well." Cannon said, "We got a little aggressive in the beginning, but started lobbing and stayed patient." Obviously, they were on message; everyone watching in the but made the same comment. They threw up high lobs and put down soft middle balls, and had solid hands at net to defend against drives. It was the most patient foursome of all the courts.
Girls 18 & Under: Standing Room Only
Meghan Foster and Hannah Kratky have won Junior Nationals three times now, and there is good reason for that. They handled their opponents' huge drives well, and created a calm atmosphere on the court. Finalists Bella Echevarria and Meredith Hughes threw all the groceries at the girl, but couldn't break down Foster and Kratky. The final score was 6-2, 7-5. The last match of the day, the girls had a great fanbase in the Strathhaven High School Paddle Club. Ten players from the high school team, newly formed and working without an adult mentor, played at Junior Nationals this year, and were taking in all they could from the high-level play on the court.
Boys 18 & Under: Boyz To Men
Gardner Tregellas and Will Burger have been on the junior circuit for years. They dialed in all of their experience in a lopsided final against Austin Holmes and Reed Schultz at 6-1, 6-1. The power was impressive; the points at most times were very short, but on occasion were classic and long. Tregellas and Burger have taken home two gold and two silvers from Junior Nationals over the last six years. Holmes and Schultz won a silver in the 14s in 2011. The boys have learned a great deal playing in area men's leagues and it showed on the court.
Congratulations to the winners, the finalists, and all of the players for continuing the great tradition of sportsmanship at the 2014APTA Viking Junior Nationals. It was an award-winning day!
Source: Platform Tennis Magazine, Vol.15, Issue 5 April/May, 2014