Mary Doten and Susie Keane Inducted into the Platform Tennis Hall of Fame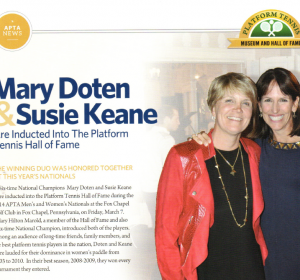 Full Text of Marold's Induction Remarks for Mary Doten
Full Text of Doten's Acceptance Remarks
Full Text of Marold's Induction Remarks for Susie Keane
Full Text of Keane's Acceptance Remarks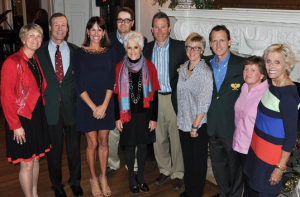 Eight Hall of Fame members attended the induction ceremony - click links to see their bios at the Platform Tennis Museum and Hall of Fame: (l-r) Mary Doten,
Tim McAvoy
, Susie Keane,
David Ohlmuller
,
Diane Straus Tucker
,
Scott Mansager
,
Gerri Viant
,
Flip Goodspeed
,
Patty Hogan
,
Hilary Hilton Marold
Six-time National Champions Mary Doten and Susie Keane were inducted into the Platform Tennis Hall of Fame during the 2014 APTA Men's and Women's Nationals at the Fox Chapel Golf Club in Fox Chapel, Pennsylvania, on Friday, March 7. Hilary Hilton Marold, a member of the Hall of Fame and also a six-time National Champion, introduced both of the players.
Among an audience of long-time friends, family members, and the best platform tennis players in the nation, Doten and Keane were lauded for their dominance in women's paddle from 2003 to 2010. In their best season, 2008-2009, they won every tournament they entered.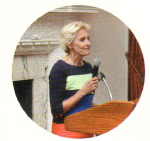 The following are excerpts from Marold's introduction speeches and from the winners' acceptance speeches.
Mary Doten Introduction
In 1993, some tennis friends of Mary's convinced her to come out and try platform tennis and she became hooked on the sport. They had ulterior motives in that they were trying to get Mary to join the Hinsdale Women's Platform Tennis League team, so Hinsdale had a chance to dethrone the paddle queens of Chicago's North Shore League, the mecca of platform tennis play at the time. Mary joined the team and Hinsdale won the North Shore Women's PT League for the first time ever. Platform tennis was growing well beyond the North Shore now.
Mary's weapon of choice on the court from the beginning had been her two-handed backhand drive return of serve. Both her forehand and backhand drives came at her opponents with heaviness, speed, and accuracy. Her backhand was a bit more deceptively hit, slightly harder to read. Pair these shots with the intimidation of her following it to the net and in a quick blitz, Mary had turned defense into offense and now had control of the point.
With this new tactic of freely blitzing added to her already successful arsenal of drives, it was only a matter of getting paired with the right partner before a National APTA Championship would be hers. That all came together when Mary paired in 2003 with Susan Keane. They won the first of many APTA National Championships together as a team that year. They won the APTA Nationals six times together: 2003, 2004, 2006, 2007, 2009, and 2010.
When Susie Keane retired from platform tennis competition, Mary joined forces with Chelsea Nusslock from Lake Forest, Illinois. They were semi-finalists at Nationals in 2012 and finalists in the 2013 APTA Nationals. Besides the fact that Mary is still an active, competitive force to be reckoned with on a platform tennis court, she has a very busy teaching and coaching schedule. And now, she is the recipient of the APTA's highest honor, the Platform Tennis
Hall Of Fame award to Mary Doten.
Mary Doten Acceptance Speech
I am deeply honored to be standing in front of all of you. I look around and see so many amazing people and talented players and am truly humbled. Luck has played a big part of my paddle career. I was first introduced to paddle by no less a player than six-time National Champion, Hilary Marold, who I knew through tennis.
Hilary pulled me out on the court, showed me the game, and nearly immediately had me driving an hour each way to the North Shore of Chicago for team competitions. My apprehension at not knowing a lick about paddle was met with Hilary's assurances that I would do just fine. I guess she was right. What a joy to have her here with Susie and me tonight.
Luck would lead me to some great platform teachers in Hank Irvine and RayJ Murphy. They were instrumental in motivating me to work on my game while still playing to have fun. I was perhaps the first woman player to prefer her backhand. They supported my unusual choice to return with a backhand.
Perhaps it had something to do with them seeing my forehand! I was lucky enough to find a partner in Susie Keane just as she had moved to Chicago and got the paddle bug. She is one of the toughest competitors I have ever encountered and it was a great ride to partner with her for eight years. Once Susie moved her family down to Florida and found a new passion in golf, I was in search of a new partner. I was lucky to find an energetic and fierce young competitor in Chelsea Nusslock. Chelsea never hesitates when I say "Yours" on any and all drop shots.
These last three years with Chelsea have kept me in the game and enjoying it every step of the way. I have been lucky to be a part of a great program in Hinsdale paddle. Great paddle ambassadors like Bill O'Brien, Paul Wiggin, and Charlie Usher have spent countless volunteer hours promoting park district paddle and have taught me the importance of giving back to this great sport. Through the parks program we have been able to introduce paddle to several hundred new players in the Hinsdale area.
And through paddle I have made wonderful friendships, another stroke of luck. Backtrack over 30 years and the jackpot of good luck brought me Gary Doten. He was the first guy that I met at Freshman Initiation at Wake Forest; although it was over three
years until we started dating. Once married we had three great kids, Andrew, Scott and Anna, all here tonight. I can still remember the first time I sheepishly asked Gary what he though of the idea of me playing in Nationals while he stayed home with our then 4-year-old and twin 1-year-olds. He replied, "Yes, definitely, you should play! Can I do anything to help you get ready?" Nearly 20 years later, it is still his response. He has been my biggest supporter and I love him dearly.
Susie Keane Introduction
Susan started out very young trying to be the best she could be at whatever she was doing. To win her first professional singles title in tennis at only 14 years old was a good example of her love of competition, her maturity, perseverance, and solid work ethic. At 16 years of age she became the U.S. Open Girls' Singles Champion and the ITF World Junior Champion, 1980.
At the end of 1988 Susie retired from professional tennis competition. Susie and Peter married and moved to Lake Forest, Illinois. This was where Susie Keane's platform tennis roots took hold. She started playing platform tennis with lots of new found friends. She enjoyed the competition and began transferring the same mental fortitude and passion to succeed from her pro tennis days to her newfound sport of platform tennis. It didn't take Susie long.
The 2003 APTA Nationals was approaching. Mary Doten was lined up to play with Julia Sierks, but at the last minute Julia had a family emergency arise. The rest is history. At least, APTA history. Mary convinced Susie to fill in for Julia. Mary told Susie, "Come on. Well just do it for the experience."The first time pairing of Doten-Keane, unseeded in the tournament, swept through the draw, beating seed after seed until, indeed, the 2003 APTA National Women's Championship trophy was theirs.
After Susie won her first nationals, there was no resting of her laurels. She worked even harder on her game, training, hitting repetition drills with other players and tennis pro, RayJ Murphy. All of her training in the off-season paid off as Doten-Keane successfully defended their national title with a win in 2004,
After her 2010 win, Susie retired from competitive platform tennis. She and her family now live in Orlando, Florida. She is surely the definition of a "champion." Platform tennis is better off for having Susie Keane a part of its history. And now, she is the recipient of the APTA's highest honor, the Platform Tennis Hall Of Fame award to Susan Mascarin Keane.
Susie Keane Acceptance Speech
Thank you Hilary for that introduction and thank you to my partner, Mary Doten, who I share this honor with … you were my first and my last paddle partner so you pretty much taught me everything I know. It was always a pleasure to play with you, win or lose!
I would also like to congratulate Bob Callaway who will be inducted next week in New York and I'd like to thank the Platform Tennis Hall of Fame Committee for all they do and for selecting us this year and to everyone for being here tonight — it's really great to see so many of you again and also to see so many new (and young!) faces.
You never know what's in store for you. Eleven years ago we moved from Detroit to Chicago and I went looking for a place to play tennis … but with RayJ Murphy's influence, was soon playing way more paddle than tennis. And then, after being talked into going to play in my first Nationals (just for the experience), I was hooked for the next eight years and lucky to have Mary by my side — in the backhand court blitzing her way to net over and over again!
My paddle days seem a long time ago though it's really only been just over three years that we picked up and moved (again! Part of my husband's job description) to Orlando. (I wish I could say that the move helped my golf game but sadly the opposite seems true.)
But back to paddle, I miss the competition, the exercise, and the camaraderie. It truly is a wonderful sport! I hear there are paddle courts in the Villages about an hour away but I think I'm still a few years from exploring that option!
Thank you all again for allowing me to take this trip down memory lane and reminding me how fortunate I was to play this great game with so many of you.