National Championships – an epic Men's final that remains the longest in APTA National Championships based on number of games played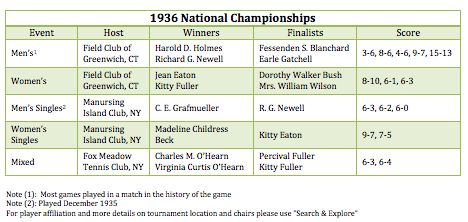 Harold D. Holmes and Richard G. Newell from Tremont Place Platform Tennis Club in New Jersey won the Men's Championship in an epic match against the Fox Meadow Tennis Club team of Fessenden S. Blanchard and Earle Gatchell.Blanchard was devastated that a non-Scarsdale team had won a National title!
Blanchard recalled the match in his 1944 book:
"The Men's final match still holds the APTA record for length and closeness. Both teams had already played in the quarters and semi-finals that same day. The referee made the finals the best of five sets, as opposed to the standard best of three. For the first time, a Platform Paddle Tennis championship went outside of Scarsdale, with Holmes and Newell winning the epic match: 3-6, 8-6, 4-6, 9-7, 15-13, a 77 game final, over Blanchard and Gatchell. Holmes and Newell had 13 match points before winning."
Historical Factoid: One of the finalist in the Women's Doubles event, Dorothy Walker Bush, was the mother of George Herbert Walker Bush the 41st President of the United States.
Source: Fessenden S. Blanchard, Paddle Tennis, 1944