National Championship results and coverage of Men's and Women's Nationals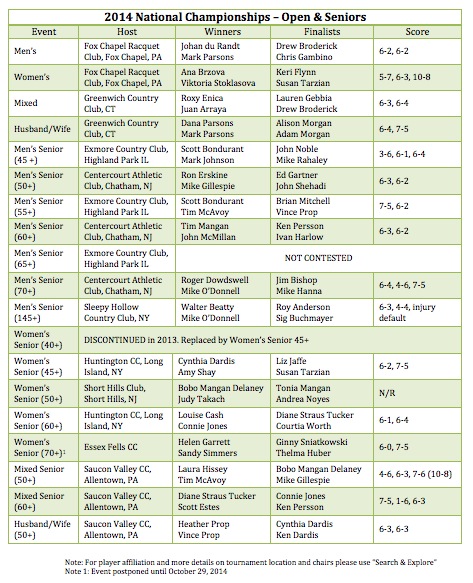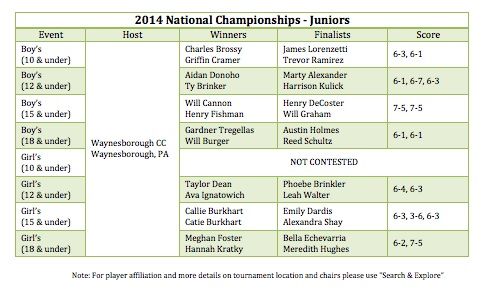 Ann Sheedy, Executive Director of the APTA, had her reflections on the President's Cup and the Men's and Women's Nationals in her A Nationals Diary printed in PTM.


Thursday – President's Cup (March 6, 2014)
The women are in Sewickley today playing the President's Cup and the men are in Fox Chapel. Not surprisingly, the Region II men took the title and the Region V women were the champs. Both regions were pretty darn loaded. Oops, we blew a breaker panel and the electrician has to come back and give us more power. As usual, the President's Cup ran late and I had to keep asking the Pittsburgh Field Club to hold off serving dinner as most of the players were still on court. During dinner I heard the news that two women's teams might have to drop out of the Nationals, due to injury and illness. Took a while to confirm the withdrawals but luckily we had some happy replacements on the waiting list.
Friday – Nationals Play begins (March 7, 2014)


Three hundred and eighty-four players will start to play today in the PNC APTA Pittsburgh Nationals. I am hoping that all those pesky details have been thought of and
the correct decisions have been made. We have more than 200 volunteers to help this run smoothly. The only thing we can't control is the weather. Good grief, the Live Scoring site has crashed. This is out of our control but is really maddening. Thankfully, Isabel Cabanne is here to take charge.
The play is awesome, what can I say. I don't get to see as much as I would like because I am sort of a gofer today. Only one upset, a Region IV team, Nancy Budde and Tracy Glassmeyer, surprise the #15 seeds Susan Rudd and Wendy Yang and make it all the way to the Round of 16. I'm bummed because I want to watch both the Mary Doten/Chelsea Nusslock versus Jane McNitt/Wendy Schpiz match and the Cindy Prendergast/Lauren Zink versus Ana Brzova/ Viki Stoklasova match but they are at different parts of the club. I guess it is fitting that Mary and Chelsea win this one to go with Mary's Hall of Fame induction this evening.
There doesn't seem to be an issue with the parking, the Live Streaming is going well, the Live Scoring is backup, we have enough water, Gatorade, and balls, I think, and the weather is cooperating. Much to my surprise (okay, I admit I was wrong on this) we are selling lots of merchandise. I haven't heard of anyone getting lost and the venues seem to be somewhat on time.
My big concern is tonight. If everyone comes that says they are coming to the dinner it will be 416 people. That will be really tight. I told the club 400 so we shall see … The Fox Chapel Golf Club has a spectacular high ceiling, decorative columns, and is awash in the Steelers colors. The club looks beautiful.
The dinner honoring Mary Doten and Susie Keane is great. The speeches put into perspective the time, effort, and passion everyone involved puts into the game. It is wonderful to see so many Hall of Famers in attendance. More than 90 national titles are held by those luminaries. Only downside of the evening is that probably only 350 people showed up and we have to pay for 400. Hmm, wish there was a better way.
Saturday – Nationals Play continues (March 8, 2014)



Pretty amazing matches this morning. Roxy Erica and Martina Ondrejkova, who are the seventh seed, take out the number second-seeded team, perennial contenders Cynthia Dardis and Amy Shay. Ken Flynn and Sue Tarzian come through the quarters as expected as do Doten and Nusslock and defending champions Brzova and Stoklasova. So we have the first, third, fourth and seventh seeds in the semis. Should be great fun to watch!
I feel like a kid in a candy shop. S0000 many great players to watch. The men's seeds hold into the Round of 16 except for 14th seeds Brett Englesberg and Jeff McMaster, who fell to eight-time National Champion Scott Mansager and his partner Chris Struck in the round of 32.
Both women's semifinals were hard fought matches. Flynn and Tarzian squeak by Enica/ Ondrejkova in three sets to gain their first Women's Open finals and in a reprise of last year's final Brzova and Stoklasova beat Doten and Nusslock in three sets.
I love the format that the Philly Nationals created, which is to have the four men's quarterfinals staggered two at a time Saturday afternoon and evening. A barbecue truck, free beer and wine, and awesome paddle, is this great or what? The men's quarterfinals offers up all the fun you would expect. Mike Cochrane and Scott Estes, Jr., versus Johan du Randt and Mark Parsons. The rain is a bit of a downer, particularly for the players and umpire but the tent is great for the spectators and you can see the play from the clubhouse. The party continued inside with a DJ and more food and drink. I hear after the clubhouse closed, the party moved on to various local establishments.
Sunday – Nationals Semifinals and Finals (March 9, 2014)



Argh, the weather pulled a fast one on us and there was ice on the courts this morning. Things are delayed for a bit while the courts are worked on. First up, the men's semifinals. Great anticipation for the du Randt and Parsons versus Juan Arraya and Alex Bancila match. Those guys can do amazing things with the ball. I asked Johan if he hears the laughs of amazement when he hits a crazy shot. He smiled and said he tries not to. Juan Arraya can also hit those shots but I didn't get a chance to ask him. The reigning champs won somewhat handily. This will be du Randt's fourth fmal in a row. The other semi-final, Drew Broderick and Chris Gambino against Flip Goodspeed and Rob Bakker, was expected to be a long one because at least three out of the four players were willing and likely to stay out all day. It was good to see Goodspeed, Hall of Famer and eight-time National Champion, return to Sunday play. Flip played Johan four years ago in the final in Philadelphia.
The women's final is one of the best in recent memory. Probably the expectation is that Brzova and Stoklasova would have a relatively easy time of it since they have been so dominant on the circuit since their victory at the Nationals last year. However, Flynn and Tarzian are blitzing and retrieving well, and force the defending champs to go to three sets. Good thing the umpire knows that the third set of the finals of the Nationals has to be played out. What is it with Pittsburgh? In 1997, Goodspeed and Mansager won 14-12 in the third set. I am getting texts from people who are watching the finals and saying that Gerri Viant and Patty Hogan are super commentators; I can't wait to watch the match later on my computer. Viki and Ana win 5-7, 6-3, 10-8, and are gracious champions. Keri and Sue have to be very proud of the way they played and competed.
While the men's final isn't as competitive as the women's, it is a joy to watch. Broderick is unbelievably quick around the court and Chris is a rock. Mark Parson's backhand is as good as advertised and Johan is often the most dominant force ever seen on a paddle court. The score was lopsided at 6-2, 6 2, but the entertainment value high.
Source: Platform Tennis Magazine, Vol. 15, Issue 5 April/May 2014