National Championships and coverage of Men's and Women's Nationals in Cleveland, OH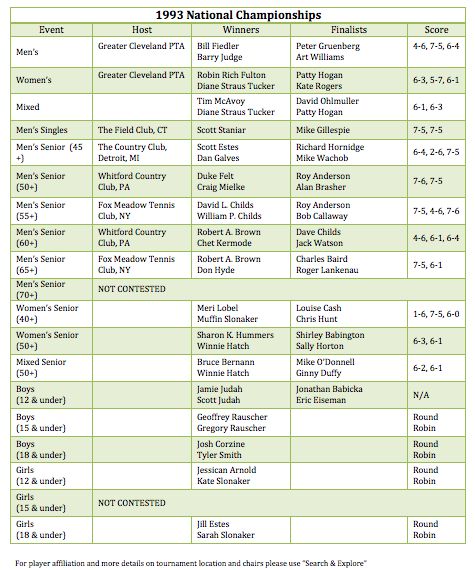 The Men's and Women's Nationals were covered in PTN Spring 1993:
"It was the toughest one of them all to run," admitted APTA Nationals chairman Walt Peckinpaugh afterward. "But with the money we raised for charity, and overcoming the bad weather, and putting on the Saturday night show … well we didn't do too badly, I guess." Almost a foot of snow fell during the tourney, along with hail, sleet, rain and more.
Robin Fulton/Diane Tucker solidified their claim as numero uno in the women's ranks with a rollercoaster three-set win over Patti Hogan and Kate Rogers. But on the men's side, Bill Fiedler and Barry Judge took the men's title by knocking off both top seeds in thrilling three-set matches.
Source: Platform Tennis News, Spring and Fall 1993