National Championships and coverage of Men's and Women's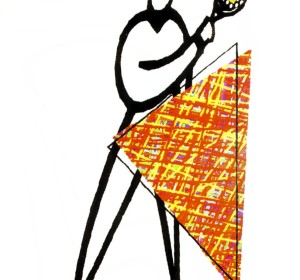 Video of Men's and Women's Finals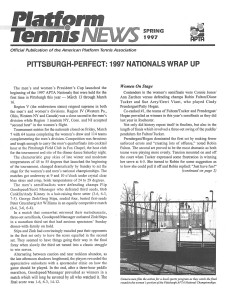 Platform Tennis News had the stories behind the National Championships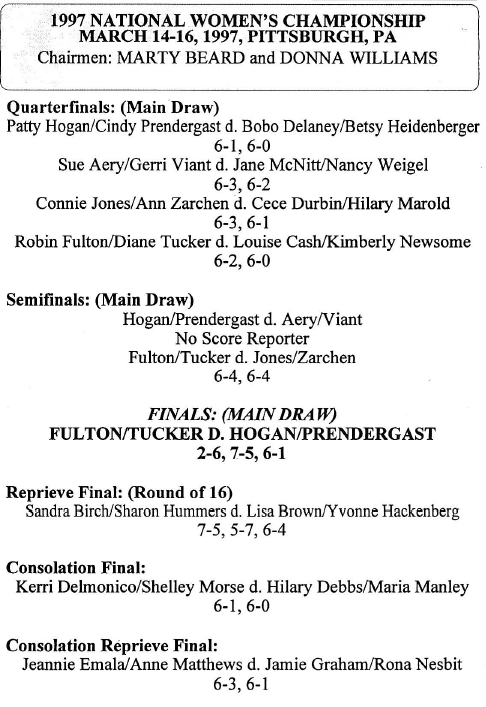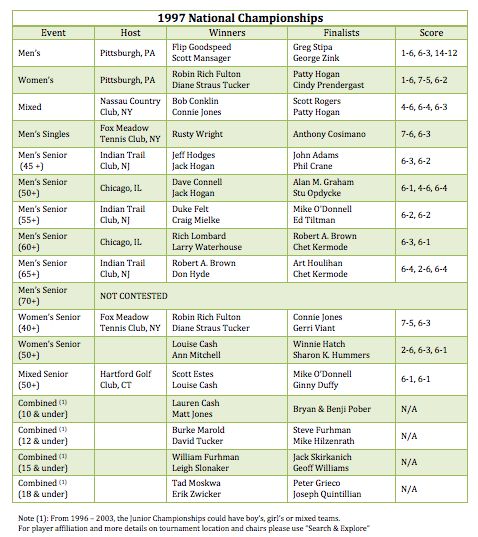 PTN Spring 1997 covered the Men's and Women's Nationals:
With 64 women's teams and 114 men's teams in the tournament, the field was deep enough to carry the men's quarterfinals into cocktail hour at the host club, Pittsburgh Field Club in Fox Chapel.
The men's semifinalists were defending champs Flip Goodspeed/Scott Mansager who defeated the third seeds, Bob Conklin/Andy Kinney, in a hair-raising three setter (3-6, 6-3, 7-5). George Zink/Greg Stipa, seeded fourth, knocked out the first-seeds Peter Gruenberg/Art Williams in an equally competitive match (6-4, 3-6, 6-4).
In the final, in a match that somewhat mirrored their melodramatic, three-set semifinals, Goodspeed/Mansager outlasted Zink/Stipa in a marathon third set that had anxious spectators' Sunday dinner-with-family on hold. Stipa and Zink had convincingly muscled past their opponents in the first set only to have the score equalled in the second set. They seemed to have things going their way in the deciding set when it slowly turned into a classic serving war. Alternating between caution and near reckless abandon, as the late afternoon shadows lengthened, the players rewarded the appreciative onlookers with a spectacular clinic on how the game should be played. In the end, after a three-hour paddle marathon, Goodspeed/Mansager prevailed as winners in a match that will long be savored by all who watched it. The final score was 1-6, 6-3, 14-12.
Contenders in the women's semifinals were Connie Jones/Ann Zarchen versus defending champs Robin Fulton/Diane Tucker and Sue Aery/Gerri Viant, who played Cindy Prendergast/Patty Hogan. Co-ranked #1, the teams of Fulton/Tucker and Prendergast/ Hogan prevailed as winners in this year's semifinals, as they did last year in Rochester.
Not only did history repeat itself in finalists, but also in the length of finals that involved a three-set swing of the paddle/pendulum for Fulton/Tucker. Prendergast/Hogan dominated the first set by making fewer unforced errors and "creating lots of offense," noted Robin Fulton. The second set proved to be the most dramatic, as both teams were playing more evenly. Tension mounted on and off the court when Tucker expressed some frustration in winning her serve at 6-5. She turned to Robin for some suggestions as to how she could pull it off and Robin replied: "Just have fun!" That advice may not only have made the difference in their winning the second set, but also may have had some impact on their "getting it together" in the third set, where between Tucker's commanding drives and Fulton's triumphant blitzes, the momentum shifted. "We got the steam rolling," said Robin. The final score was 1-6, 7-5, 6-2.
Source: Platform Tennis News, Spring 1997