Results of National Championships and coverage of Men's and Women's Nationals. Mansager and Goodspeed win 5th straight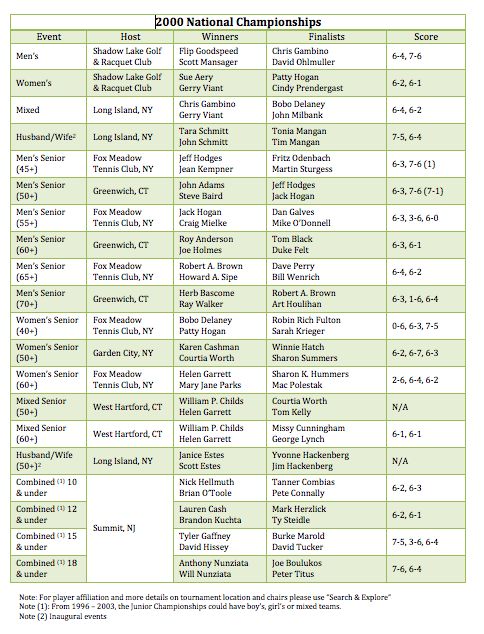 Marc Duvin covered the Men's and Women's Nationals for PTM:
In the middle of the second set of his National Championship semi-final match, Scott Mansager shot a perplexed look at his partner. Flip Goodspeed. For the second time in three successive points Goodspeed had dumped a ball into the backhand of opponent Mike Stulac, who promptly did what he usually does when he gets a good look at a backhand – ripped a winner. Up a set, but down a break, Goodspeed and Mansager were within shouting distance of a fifth consecutive National Championship Final, a feat never before accomplished in the sport. But Stulac, with his backhand and stunning quickness at the net, was beginning to take over the match.
"That ball can't go there. Flip. You know better than that," Mansager chided his partner. "Be smart."
As if the disgusted look on his face wasn't telling enough, Goodspeed's play during the remainder of the match proved that he in fact did know better It would be several games before Stulac got a good look at a backhand. In fact, that errant Goodspeed shot was just about the last good look Stulac goat at any ball, as Goodspeed and Mansager proceeded to dump almost evert shot on which they had a choice into the corner of Stulac's partner (also the Rochester tournament's gracious host) Fritz Odenbach. With Stulac watching from the ad-court, his lethal backhand and dominating quickness silenced, Goodspeed and Mansager closed the match in straight sets.
Apparently a team tends to pick up a few things about the strategy of the game on its way to five consecutive National Championship titles.
Goodspeed and Mansager closed out their record-fifth straight National Championship by going on to beat the #1 ranked and top seeded team of Chris Gambino and David Ohimuller by a score of 6-4, 7-5(7-5). In the first game of the match Gambino was serving, forty-love, and got broke. Goodspeed and Mansager rode that break through the first set, and then closed out a see-saw tie breaker in the
second.
"It was about as tight a match as you get," said Mansager, who helped his team's cause immensely by not serving up a single fault during the final day of the tournament. "There was probably only a difference of about two points either way the entire match. That was an incredible way to end the season," he added, "especially since we were able to beat out the hottest team of the year. We didn't do as well as we wanted in the big tournaments this year, so to be able to win like that felt really good."
History was also made on the women's side of the draw, as Gerri Viant and Sue Aery cruised to an easy finals victory over the defending National Champions, Patty Hogan and Cindy Prendergast. The 6-2, 6-1 victory not only avenged last year's finals loss, but also represented a women's record-sixth National Championship title.
Hogan and Prendergast fought hard to defend their title, even knocking off the top-seeded team of Robin Fulton and Sarah Krieger in a tough semi-final match. But in the end, Viant and Aery proved to be too dominant. The veteran team closed out the tournament without losing a single set!
As has become his trademark, Fritz Odenbach hosted what can only be described as an immensely successful and enjoyable tournament. Fritz, his wife Vicki, and the rest ofthe Rochester staff saw to it that all involved were warmly treated, well informed, and over-fed. "I wish it would have ended a little differently, but I think it was a great weekend," Fritz said shortly after his semi-final loss. "It was a long year of planning. And I'm glad it's over."
As for the action on the court, it is perhaps only fitting that the two teams that dominated the National Championship stage during the final decade of the 20th century opened the new century with victories. In a game where big matches, even entire tournaments, routinely come down to a handful of individual points, it defies the odds that a single team would consistently win those precious points year-in and year-out. But that's just what Mansager/Goodspeed and Viant/Aery have done.
"I'm a bit surprised," Mansager said of the fifth-straight title. He added, "to think that we've been able to come out on the right side of so many tough matches is a little difficult to fathom. But, next year's another year, and there's a lot of good teams out there. All it would take would be for one of those teams to get hot, or to learn to play a little better, and that would be the end of our streak. But Flip and I are going to work hard to make sure that doesn't happen."
Source: Platform Tennis Magazine, Issue 5, May, 2000