National Championships have indoor finals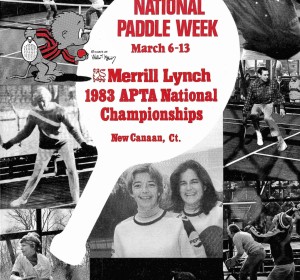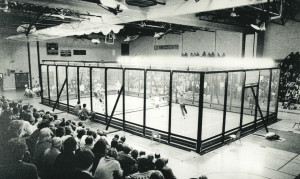 As a way to bring platform tennis to wider audiences, several tournaments were held indoors in Connecticut in the early 1980s, including the Nationals in 1983. Ultimately, this trend did not last, partly due to warm conditions inside. Today, platform tennis remains mostly an outdoor, winter sport, but not always.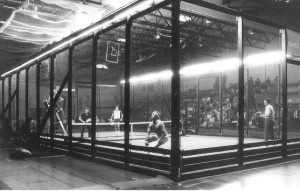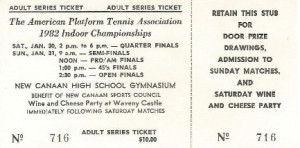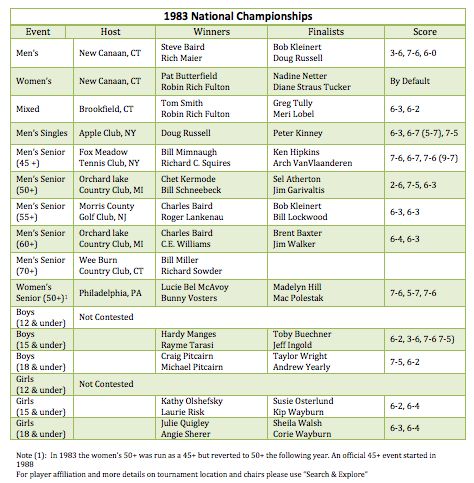 The Nationals came back to CT for the first time since 1935-36, when the Field Club in Greenwich had hosted some of the first Nationals.
Merrill Lynch was the sponsor and The New Canaan Sports Council, the host. Elimination matches were held throughout lower Fairfield County at area clubs, with final rounds of the men's and women's Nationals and President's Cup playoffs held indoors at New Canaan High School on a court specially constructed by R.J. Reilly for the occasion.
Steve Baird and Rich Maier now had won four in a row, as had Doug Russell in the Singles. Not to be outdone Chuck Baird won his fifth straight 55+.
Source: Platform Tennis News, March 1983
Note 1: There is some controversy as to how many National Women's Singles were played after the APTA had sanctioned a Men's event beginning in 1980. Women were participating in men's singles events because they had difficulty getting enough teams to play. Both Men's and Women's National Singles Championship had been played from 1935-1937 when both were discontinued. The APTA Tournament Schedules for 1980-1981 as well as 1981-1982 indicate that both Men's and Women's Singles were scheduled for New York City. The 1982-1983 Tournament Schedule also suggests that both events were to be held. After that only Men's Singles were scheduled.