National Championships- Men's and Women's sponsored by Passport Scotch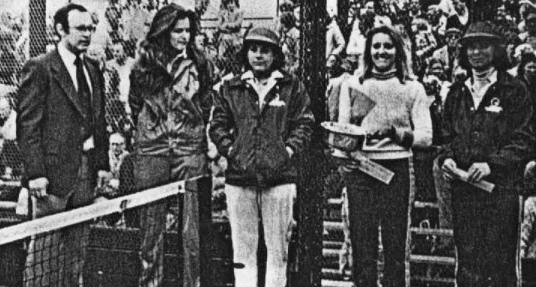 Passport Scotch's Jeff Gollin with runners-up Linda Wolf (left) and Robin Rich Fulton, and winners Hilary Hilton and Yvonne Hackenberg.
The Nationals moved to the Montclair Golf Club for 1980, 1981 and 1982. This was only the fourth time in the event's history that the Men's Nationals had not been held at Fox Meadow. It was the first return to New Jersey since the Englewood Club held the 1939 tournament.
New Jersey created a carnival atmosphere and the largest crowd in APTA history ignored a day of horrible weather to turn the Nationals into a classic event. For the second year, Passport Scotch was the event's sponsor, providing a total of $20,000 in prize money.
In the women's final, the top-seeded pair of Yvonne Hackenberg and Hilary Hilton steadied and strengthened their game to turn back the #2 seeds, Linda Wolf and Robin Rich, 3-6, 6-3, 6-3.
Following that match, Steve Baird and Rich Maier, seeded second, upset the #1 pair, Herb Fitz Gibbon and Hank Irvine, the 1977 and 1978 champions in five sets.
Platform Tennis News April 1980 had an excellent description of the matches.
The tournament was staged primarily on a seven-court layout at the Montclair Golf Club. The R. J. Reilly Company installed a seventh court in the parking lot next to the existing platform setup and warming hut and this "center" court was surrounded by bleachers capable of seating 1,500.
Source: Platform Tennis News, February & April 1980