Perfect equipment already exists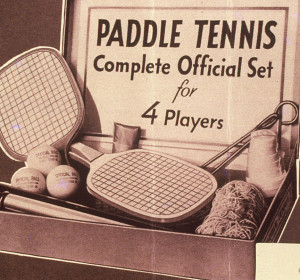 One day, Cogswell turned up with some short rectangular-shaped paddles and spongy balls, which he discovered in a sporting goods store.
The equipment was used for paddle tennis, a game invented several years earlier by Reverend Frank Beal for cramped urban playgrounds. Beal and Frank Contessa had established the American Paddle Tennis association in 1922 to promote the game and market equipment – see Frank B. Contessa
Blanchard and Cogswell tried them out on their platform. After lowering the deck tennis net and a few bats back and forth, they knew they had made a discovery.
Source: Adapted from Fessenden S. Blanchard, Paddle Tennis, 1944 and Platform Paddle Tennis, 1959