Russell and Gray capture Tribuno Championships. They get the prize money but not the trophy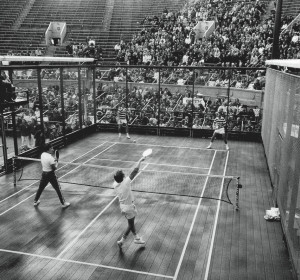 Paddle Talk head-lined the finals:
To cries of "Whoa-ho, Gordo!," Russell and Gray became the First Tribuno World Paddle Champions, coming back from 4-6, 3-6 down after the first two sets to beat National Champions Steve and Chip Baird, with scores of 6-1, 6-3, 6-2 in the later sets.
Russell summed up the match afterwards, "Patience and power have given us the edge. The power is Gordon's and the patience is mine." In a season in which Gordon Gray and Doug Russell had vied with the Bairds for the top spot, it was indeed a tremendously popular victory.
Between 2,500 and 3,000 spectators were at Forest Hills to watch the semifinals, finals and pro-celebrity tournament on a cold, blustery but sunny day. Russell and Gray received a check for $4,000 and the promise of a trophy1 from Charlie Millard, Chairman of Coca-Cola Bottling Company of New York, for their victory in the climactic tournament of the Tribuno tour.
Adding fun and excitement to the festival of paddle were the celebrities and pros who participated in the benefit event for the National Council on Alcoholism. In the final, Barbara Wachenfeld and Charlie Gogolak defeated Manny Hill and Clark Graebner. Both Gogolak and Graebner played platform tennis in addition to their more renowned sporting activities.
Umpire Howard Cosell provided expert and hilarious commentary for the event, which featured New Jersey Governor Brendan Byrne, writer George Plimpton, designer Oleg Cassini, and Doug Johnson and Bill Beutel of Channel 7, among others, playing various shades of platform tennis with the top women players.
All in all, the day was a huge success, and a tribute to the game, players and their first major sponsor, Coca-Cola Bottling Company of New York.
Source: Paddle Talk, No. 4 (May)
Note 1: Coca-Cola had commissioned Jay O'Meilia to do create the Tribuno Championship Trophy and smaller version would be given to the winners (see below). Because of a shipping mistake the trophies never made it to the event.