Social aspect grows with the game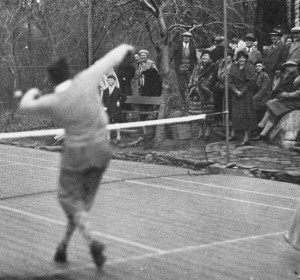 From the first game, Jimmy and Fess knew they were onto something promising. The court became a gathering place for their families and friends to socialize, play and fine-tune the game. The expanding circle of founders dubbed themselves the Old Army Athletes, for Old Army Road on which the Cogswell's house stood.
During the winters of 1928, 1929, and 1930, the Old Army Athletes shaped the rules and character of platform tennis. They made it a family game, a sport that players of disparate abilities and ages could play together happily. This enthusiastic group of 25-30 families infused the game with the camaraderie and informality that has become its hallmark.
The Old Army Athletes even started a "marital championship" with sixteen teams of husband-wife pairs only. There was a penalty of one point for each time a husband criticized the play of his wife, and vice versa. The judges had to listen carefully to detect any faint signs of sarcasm when sweet remarks seemed somewhat overdone.
Molly Blanchard Ware in a 1985 New York Times article recalled "Sagas were composed about the Titanic struggles on that Cogswell court. Pretty good sagas, as a matter of fact, because a Blanchard neighbor, Frederick Lewis Allen , author of Only Yesterday, a history of America in the 1920′s, was an ardent Old Army Athlete. Lives were changed and friendships cemented, because something new and fun and worth saving a weekend for had been invented."
Source: Adapted from Fessenden S. Blanchard, Paddle Tennis, 1944, Fessenden S. Blanchard, Platform Paddle Tennis, 1959, Diana Reische, Fox Meadow Tennis Club – The First Hundred Years, 1983, and Platform Tennis – Back Where it all Began, New York Times, March 10, 1985
On December 28, 1929, there was a gathering of the Old Army Athletes at Alger Sawyer's house in Scarsdale. Frederick Lewis Allen (Editor of Harper's Magazine at the time) and his wife staggered in and serenaded the guests. The song they sang was to the tune of Kipling's "Gentlemen Rankers:"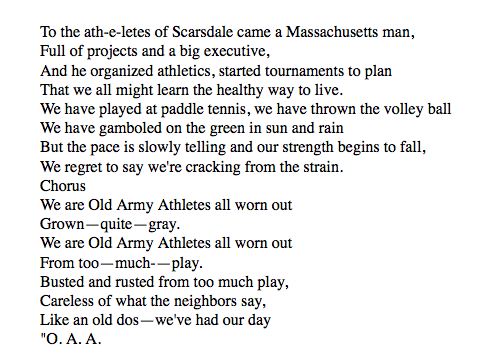 Source: Fessenden S. Blanchard, Platform Paddle Tennis, 1959