The Childress tennis and paddle dynasty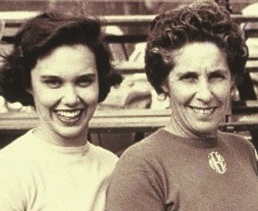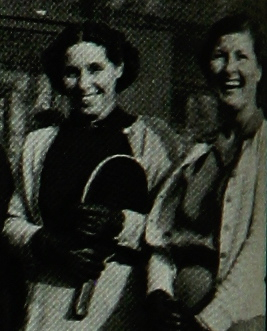 Madge Childress Beck (left) and sister Maizie Childress Moore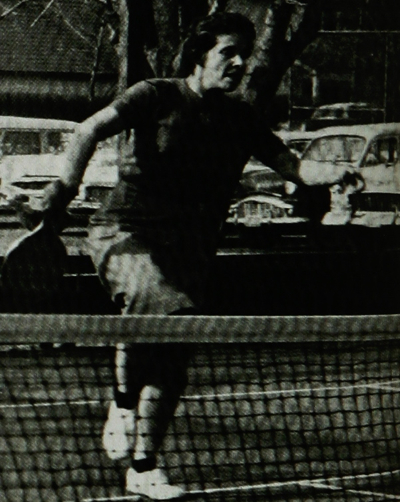 Madge Childress Beck on the court at Fox Meadow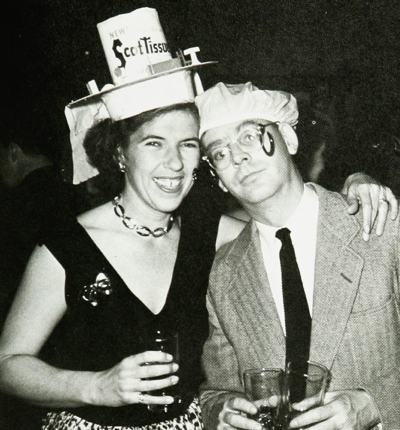 Sally Childress Auxford with husband Peyton at Fox Meadow's famous Plumbers' party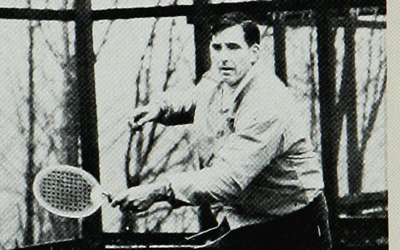 John Beck, Madge Beck's son. John won the Mixed Nationals with sister Susan in 1972 and the Men's in 1974 with Herb Fitz Gibbon
The first of this racquet dynasty at the Club were Avent and Madeline Childress. Mrs. Childress taught all four of her daughters to play tennis, and three of them loved the game. When the girls were introduced to paddle, they took to the game like a trio of naturals. All three became national champions: Sally Childress Auxford, Madge Childress Beck, and Maizie Childress Moore.
For decades, the family's daughters and grandchildren formed a nearly unbeatable paddle dynasty, with a string of APTA National Championships stretching from 1936 to 1974. Sally Childress, a frequent women's tennis champ at the Club, took her first national paddle tournament in 1937. Her partner was her sister Maizie. Nearly twenty years later Sally Childress Auxford captured a second Women's Doubles title, with partner Barbara Koegel, and in 1959 she won the Mixed Doubles crown.
Although each of the Childress women was formidable on the court, the unfailing powerhouse was Madge Beck, who won an incredible seventeen national championships: twelve Women's Doubles, four Mixed Doubles, and one Women's Singles. Most consider her to be the game's all-time best female player, and her record has never been duplicated. Famed for her terrifying backhand and aggressive play, she might have won even more tournaments had they not been canceled during World War II. For her first national championship, Madge Beck teamed with Club member Marie Walker, but in 1949, she began playing with her sister Maizie Moore, and the pair did not lose a single set for several years. Top-seeded nationally year after year, the sisters won the Women's Doubles title five times between 1949 and 1954, and thirteen times with other partners.
Both Madge and Maizie were inducted into the Platform Tennis Hall of Fame in 1965 and 1970 respectively.
In club platform tennis championships Madge won five Women's – 1952-1953, and 1956-1958, twice with Maizie and three times with Sally. In Mixed she won seven straight titles – 1943-1950, five of them with her husband. Sally won eight Women's titles from 1954 through 1971 and one Mixed in 1966 with her husband Peyton. Maizie won three straight Women's – 1952-1954.
In club tennis championships Sally won eight Singles titles during the period 1952-1972, seven Doubles titles from 1953-1973, and one Mixed Doubles in 1956. Maizie won one Singles in 1954, one Doubles in 1949, and two Mixed in 1942 and 1953, both with her husband. Madge won five Doubles titles- 1950-1952, 1954, and 1959.{Note: Astonishingly the first documented Women's Singles and Doubles championships was in 1948 although the Scarsdale Inquirer mentions women who won tournaments in the 1923-1931 time-frame]
Source: Diana Reische, Fox Meadow Tennis Club – The First Hundred Years, 1983