The Tennis Channel covers platform tennis – The Battle @ Beckett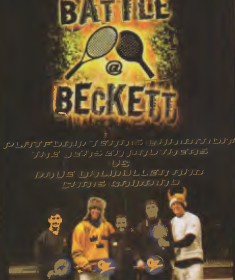 On April 11, following Davis Cup coverage, The Battle @ Beckett appeared on The Tennis Channel. The Battle @ Becket was the largest media event in platform tennis history, covered by five television stations, including ABC, NBC, CBS and FOX, and numerous magazines and newspapers. The event featured the Jensen Brothers (1993 French Open Champions) and 2003 National Champions Chris Gambino, and David Ohlmuller.
The event took place at Beckett Ridge Country Club (West Chester, OH)and was the first time professionals from the ATP tennis tour and platform tennis circuit faced off against each other on a paddle court. Luke and Murphy had been ranked as high as #4 in the world ATP rankings.
Source: Platform Tennis Magazine, Vol. 5, Issue 5, April, 2004