(1921- 1968),

Honor Award Induction: 1966 Hall of Fame Induction: 1996

Barbara Koegel was an accomplished tennis player who started playing platform tennis when she was in her mid-thirties in 1955, and won the National Women's the following year and the National Mixed with A. H. (Zan) Carver, Jr. in 1964. She retired from competitive play in 1965 for health reasons. At her home club, Fox Meadow, she devoted time and talent to developing the skills of new players, which helped raise the level of women's play. (Fox Meadow Tennis Club).
Barbara took up tennis as a young girl, playing at the West Side Tennis Club, and at nineteen defeated the French girl's champion at the USLTA championship in 1940. She excelled at tennis and squash at Smith and finally was introduced to platform tennis when she and her husband joined Fox Meadow Tennis Club in 1955. In ten years, until she gave up competitive play in 1965 for health related reasons, she won twenty club titles in tennis and paddle, and won the APTA National Women's Doubles in 1956, with Sally Auxford, and the National Mixed Doubles title, with Zan Carver),in 1964.
Fessenden Blanchard in his book Platform Paddle Tennis called Barbara Koegel, "another first-class player, who has come to the top in recent years. She is a sister-in-law of the highly rated Frank Guernsey. In the semi-finals of the national mixed doubles at the Wee Burn Club in February 1959, she played as fine a game as I have ever seen any woman play. Though she and her partner, Herman Schaefer, lost to George Lowman and Sally Auxford in a very close, exciting match, Barbara's steadiness and poise in returning difficult shots off the wires, her low volleying, her backhands and her all-around play were outstanding. And she continued her fine play in reaching the finals of the 43-team national women's doubles championship in 1959, with my daughter, Mrs. Frederick B. (Ruthie) Walker, as her partner. As Kitty Fuller put it, she is 'what the men call a real clutch player'. And, as one of her partners put it, 'she's a spectator's joy and a partner's dream'."
Perhaps more significantly, Barbara loved tennis and paddle tennis, and she enjoyed playing with hackers as much as she did with the best players. As the APTA award said: "the reasons for her award tonight go beyond the record book. At her home club of Fox Meadow, Barbara Koegel has devoted her time and talent in developing the mediocre player, thereby improving the general caliber of many women participants. No sport could ask for a more unselfish dedication." Fox Meadow established the Barbara Koegel Award in 1969 shortly after her death. The Annual Ladies' Day Award is given "for achievement and sportsmanship and in memory of a champion who gave her time and talents to developing paddle tennis among the women of the Club."
This characteristic was evidenced in other ways. In the late 50′s and early 60′s she served as captain and coach of the Westchester Junior Wightman Cup team. The Wightman cup was donated by the Queen Mother of tennis, Mrs. Hazel Wightman, who was herself a winner of forty-one national championships. The annual competition was, and still is, between English and American teams. Play would alternate between Wimbledon and Forest Hills. To encourage interest in the younger girls (up to 18), teams were formed from Westchester/Connecticut, Long Island and New Jersey. Barbara, who knew Mrs. Wightman well from Forest Hills days, agreed to captain the Westchester/Connecticut group of about two dozen girls, including several from Fox Meadow. She devoted a great deal of time to the practices and the matches and got great satisfaction from the experience.
Barbara Bixler was born October 11, 1921, in Jersey City, New Jersey. She and her younger sister, Joan, were the only children of Donald and Dora Bixler. At an early age, Barbara and her family moved to Forest Hills, New York, where they joined the West Side Tennis Club, which was then the foremost tennis club in the area and the site of the men's and women's National tournaments. She took up tennis as a young girl, at her father's urging, under the tutelage of the club pro, George Agutter. He held the job at West Side for 46 years, was described by Al Laney as "the country's No. 1 tennis- professional" and was much loved and respected. He developed in his pupils a sweeping style of backhand that was very graceful and very effective, and such a trademark that his pupils could often be identified in later years.
Barbara's tennis developed very rapidly and she became the club's women's singles champion while still in high school. The family moved to Garden City, Long Island, in the late 1930s, but kept the West Side membership. In 1940, Barbara played in the Nationals, then on grass, and in the first round defeated the French girl's champion. According to the newspaper account: "A sunny blonde, enjoying her first attempt in the big tournament, made the home club people very happy – to say nothing of her mother and father who watched joyously as she made a sensational battle out of a losing fight and scored a coveted victory (0-6, 6-1, 6-1)."
Barbara went on to Smith College, where she graduated in 1943. She was captain of the tennis and squash teams, and won the college championships in both sports. After marrying William F. Koegel in 1946, she and her husband lived in Charlottesville, VA, where he attended University of Virginia Law School. There, she continued to play tennis while she also began to raise a family. She won the Albemarle County (Charlottesville) ladies' singles championship and played squash, non-competitively.
In 1949, she moved to Hartsdale, and, in 1952, to Walworth Avenue in Scarsdale. She played at County Tennis Cub until 1955, and was the ladies' tennis champion. In that year she and her husband joined Fox Meadow Tennis Club ,and her attachment to paddle tennis began.
Barbara died on October 16, 1968, after a four-year bout with colon cancer, at the age of 47.
Source: Letter to John A. Miller, Jr., President of Fox Meadow Tennis Club,from William F. Koegel, dated April 11, 1994.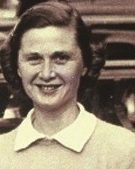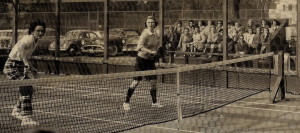 Ruth Walker (left) and Barbara Koegel in the finals of the 1959 Women's Nationals. They were defeated by Madge Beck and Susan Beck Wasch. Action is on court 1 at FMTC.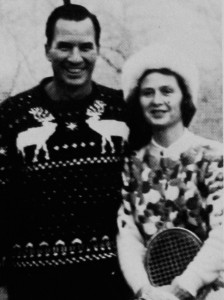 Barbara and Mixed partner Zan Carver (1970 Honor Award recipient)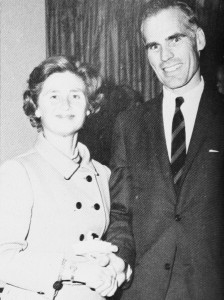 John Ware presenting Barbara with the Honor Award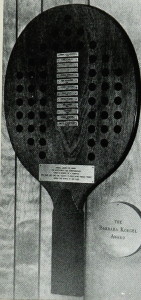 The Koegel Award at Fox Meadow. The award is given to women members for achievement and sportsmanship. The award reads "given in memory of a champion who gave her time and talents to develop paddle tennis among women of our Club."