(1943- )

Hall of Fame Induction: 2007

An accomplished tennis player who had known success on both the amateur and professional levels, Herbert Fitz Gibbon entered the paddle scene in a big way in the 1973-74 season. With partner John Beck, he won every event that they played on the tour, including the 1974 Men's Nationals.
When Fitz Gibbon and his partner, John Beck, stormed onto the paddle stage it was thought that they had revolutionized the game, as both players relentlessly pounded the serve return to end the point quickly and successfully. In the 1975-76 season, Herb partnered with Hank Irvine for the Men's Tribuno Tour, winning the inaugural event in Cleveland and reaching the finals in two others. The team also won the Men's Nationals in 1977 and 1978—going undefeated from half way through the 1977 season through the end of the 1988 season—and the Pro-Keds tournament, held outside Burlington House in New York City. In doing so, Fitz Gibbon and Irvine walked away with paddle's largest monetary prize ever. Herb also won the Mixed Nationals with B.J.DeBree in 1975 and 1976, and reached the finals in 1977.
Born in Garden City, New York, Fitz Gibbon played his first tennis tournament at the Cherry Valley Club at the age of seven. He played three years of varsity tennis for Garden City High School and won four New York State High School singles titles, a feat that has never been duplicated. Herb then went on to play on the Princeton University varsity tennis team for three years, over which time the team was undefeated in Ivy League play. In his senior year, he captained the team that broke the University of Miami's 137 match winning streak, the longest in the history of collegiate tennis.
After graduating in 1964, Fitz Gibbon joined the amateur tennis circuit and was ranked 14th in the country, with wins over such outstanding players as Arthur Ashe and Tony Roche. He was a member of the U.S. Davis Cup team in 1965, and, after playing the Australian circuit in the fall of that year, did a tour for the State Department through Southeast Asia in February of 1966 that included a trip to Burma. He was drafted in March, was stationed at West Point, and served as coach of the Plebe tennis and squash teams. He finished his stint in the Army in February of 1968 and was asked by the State Department to return to Burma to coach their national tennis team in preparation for the Southeast Asia Peninsula Games. Later that year, he was a gold (mixed doubles) and bronze (singles) medalist at the Olympic Games in Mexico City.
At this point, Herb was considered one of the best U.S. clay court players, with a victory over Manuel Santana in Spain to his credit. After the sport turned professional in 1968, he became the first amateur to beat a professional at Wimbledon when he upset the 16th seed Nikki Pilic of Yugoslavia in four sets.
In tennis, his serve and forehand were enormous weapons on any surface, and Herb was renowned for his powerful forehand return of serve and attacking style. These play elements came with him to platform tennis. Players talked about the fear that he created on the return, and many a net player tried unsuccessfully to get out of the path of his deadly weapon. Opponents tried all kinds of formations to counter his return, including underhand serves, having the net man stand out of court by the gate, the Australian formation, net man on his hands and knees below the net, and putting both players in the back court. All these techniques failed. Fitz Gibbon did not play pretty paddle by any means, but it got the job done. Herb used his height to great advantage on his serve and overhead and. possessed good hands on the volleys. All in all, he was the dominant ad court player of his time.
Though an aggressive player, Herb was a model of good sportsmanship, and a gentleman, both on and off the court. His 1968 international tennis circuit partner, Allen Fox, a former Pepperdine coach, observes, "He is the classiest guy I know. He's honest, thoughtful and understanding. The whole time I traveled with him I never got anything negative. When you live with somebody for a year you know the person very well. You're often driving all night and things come out. Not with Herb."
Fitzgibbon co-authored the book The Complete Racquet Sports Player, published in 1980 by Simon & Schuster. He was inducted into the USTA Eastern Tennis Hall of Fame in 1999.
His off-court accomplishments are equally impressive. In 1969, he started working as an institutional stockbroker at F. Eberstadt and he finished his Wall Street career as a managing director and portfolio manager at Oppenheimer Capital. Reflecting on his career and tennis, Herb said: "Bill Talbert was the model. He did it better than anyone. He went to college and used tennis as an entrée into business. I wasn't considered a brilliant financial analyst at first, but it has been my success at Oppenheimer Capital that was my most satisfying achievement. I was supposed to do well in sports."
The birth of Herb's son in 1990 led to his active involvement Interplast (now ReSurge International), a charitable organization of plastic surgeons operating on deformed children in third world countries.
Source Hank Irvine, Induction remarks; USTA Eastern Tennis Hall of Fame; Herb Fitz Gibbon, personal communication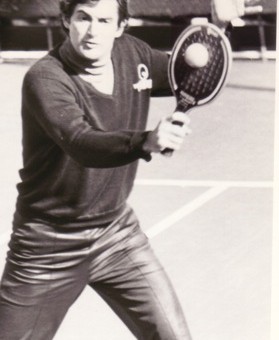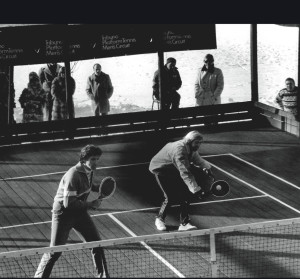 During one of the Tribuno Tour events, Hank Irvine hits a service volley while Herb Fitz Gibbon closes in on the center. This team dominated several of the Tribuno tournaments and won the Nationals in both 1977 and 1978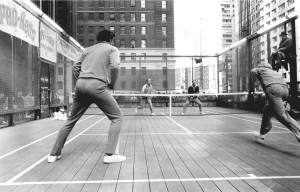 The final of the PRO- Keds Classic outside the Burlington House in Manhattan. Herb Fitz Gibbon and Hank Irvine (foreground), Chum Steele and Keith Jennings. The match was won by Fitz Gibbon & Irvine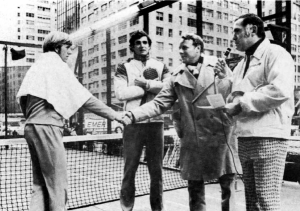 Robert E. Schott, vice president, Uniroyal, Inc., Consumer Products Division, left, presents $10,000 prize money to Hank Irvine and Herb Fitz Gibbon, as Dick Squires offers his congratulations.