(1935 – 2016 )

Honor Award Induction: 1976

Hall of Fame Induction: 1996

Susan Wasch inherited her mother's racquet genes and grew up playing both tennis and paddle. She had played Junior Wightman Cup tennis for two years when a serious illness interrupted her racquet career, and there was thought that she might not play again. Instead, she took up paddle and overcame the odds to win the National Women's with her mother in 1959. At the age of twenty-four, she was the youngest woman to win at the time. She won again in 1960, 1962 and 1965, and added a Mixed title in 1972. (Fox Meadow Tennis Club).
At the time of her induction in 1976, Wasch was the fifth ranked woman in total number of points in APTA championship play (for wins and second-place finishes), and she was the youngest woman ever to win the APTA Honor Award. Her ability with a racquet was at the level of a select few, her sportsmanship abounded, her smile and cheerfulness were legendary, and her record in our game was that of a true champion. All this was achieved despite serious illness, despite living in a comparative platform tennis wasteland, despite being a four-time mother, and despite playing mixed doubles with a very large brother who freely admitted to stepping on her lower extremities frequently while he was covering the court.
Her exposure to tennis and, particularly platform tennis, began at a very early age. Her winter playpen was a 60 x 30 foot wooden platform with 12-foot high mesh wire for its sides at the Fox Meadow Tennis Club. She was playing both tennis and platform tennis by ten and, by fifteen, with her natural ability and determination, was well on her way, to the lovely player she would become. At that age, in 1950, the Eastern Lawn Tennis Association gave her the number one ranking in Girls' 15 doubles and, a year later, she had a number seven Eastern ranking in Junior Girls' singles. She won the Fox Meadow Tennis Club women's doubles three times as a teenager. She also played Junior Wightman Cup tennis for two years and her coach remembers her as a heady player with beautiful groundstrokes, and as a terrific, determined competitor.
And then, because the strong always seem to be tested, Susan fell ill and required two operations, and a subsequent prognosis of no more tennis. Her groundstrokes didn't count now, but her competitiveness and her determination did. She met what she faced and bested it. It wasn't easy, and it took a long time, but she did it , all of which is a measure of her as a person. Her gift for racquet sports and her skills were still there and she called on them again. But, this time the sport this was platform tennis.
National Championships in paddle started in 1935, the year Susan was born, and in the sport's and her 22nd year, 1957, she was a finalist in the Mixed Nationals, getting there with a partner, James Carlisle, who had wanted to play with her famous mother, Madge Beck. He'd asked many times, but Madge was pretty much in constant demand and not often, if ever, available. However, she told Carlisle she had a talented daughter and suggested he play with her. They did, and she became the youngest player ever to be a finalist in the Mixed Doubles, and was runner-up three more times, in 1960, 1965, and 1973. She also won the Mixed Nationals in 1972 with her brother, John Beck.
In 1959, at the age of twenty-four, she partnered with her mother to win the first of her four Women's Nationals, in doing so, becoming the youngest woman to win the title. at that time. She was also a finalist in 1964 and 1967.
Susan and other members of the Childress family had a kind of dominance in women's doubles competition. From 1935 through 1967, there were twenty-seven championships and she, her mother, and her two aunts, were winners or finalists twenty-two times. Susan, herself, was a winner or finalist six times in nine years of play. She was mentioned in Blanchard's book Platform Paddle Tennis, published the year she won her first title. With many other fine players to talk about, Fess Blanchard called her "one of the greatest pressure players in the game with a forehand as strong as women's platform tennis has seen." He also marveled at her deceptive and well-hit drop-volleys that won her many points with a technique that Fess wished others would study and use. Though she learned the game and many of its finer points from her mother, considered the "Champion's Champion," she added her own special qualities. Wasch was beautifully steady under pressure and played with great consistency. And, she could dig down deep to lift her game when she had to. She was fast anywhere on court and a terrific net player, which might have been the result of her mother pounding balls at her when she was a young girl, with the admonition, "Don't you ever back up."
Sports Illustrated "Faces in the Crowd" identifies amateurs whom the editors feel have recorded a significant sports accomplishment. Wasch made that page after returning to the game from a virtual seven-year and four-child retirement to win the 1972 Mixed Nationals with her brother. At that time, she had no one to play with where she lived and wasn't even a weekend player. She played only once before the tournament.
While remembering the talent, the people she played with and against, mostly remember the person – how much they liked her, her sportsmanship, the smile. A young competitor she grew up with said she didn't know what childhood would have been without this girl and their time on the court at Fox Meadow. One of her frequent opponents said you'd see that lovely smile just as she was about to crush you at net, and everything was OK. Another said that her temperament and sense of fair play—so fair, that she'd give points away, so nice that it interfered with her competitive instincts—made her stand out. How many times she's broken her own concentration to compliment a shot no one knows. Susan liked to win all right, she wasn't going to while wearing a coat of antagonism or hostility.
At the time of her induction, she was still a strong contender and brought her oldest son along so that the dynasty could continue. She also took a course to be a member of the American Professional Platform Tennis Association and teach the game she knows so well and loves so much. She worked with the coach at Westover on a court she helped dedicate, and Hotchkiss and Choate also sought her help.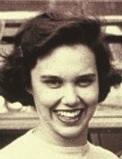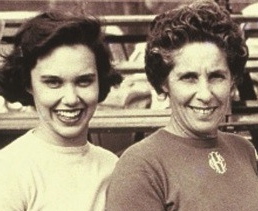 Susan Beck Wasch and her mother, Madge Beck, won the Women's in 1959 and 1960
Obituary
- Middletownpress February 10, 2016