(1914 – 1991)

Honor Award Induction: 1967

Hall of Fame Induction: 1996

Walter Close started his platform tennis career in the early 1950's and soon became known as a "worker" who gravitated to the important jobs. He teamed with Dick Hebard to win the National Men's 45+ in 1960 and again in 1961. But, his accomplishments stretched beyond the court. He served as APTA Tournament Chairman from 1958-1959, after which he served as association President from 1960-1961. These were busy and successful years for the game and, during his regime, the APTA membership increased from 24 to 38 membership clubs. (Fox Meadow Tennis Club).
Close developed the $30.00 package supplied by the APTA to court builders, consisting of official blueprints plus a ten page Standard Specification Brochure, and designed and refined the APTA Tournament Invitation procedures used during that time. The Jambles Tournaments were never more successful than when Walter ran them and, as the Chairman of the 1957 Men's Nationals, he was a model of efficiency and ingenuity. He was a student of "snow removal," and developed the successful empirical formula of seven high school boys plus five local players plus shovels equals clean courts. He was also among the first to bring the digital age to platform tennis in the form of a loud-speaker system to announce court assignments.
A native of New York City, Close attended Dumpton House school in England, the Hill School in PA, and Princeton University where he graduated in 1937. He spent one year doing postgraduate work at New York University and then started working with Pan American Airways where he spent three years before being commissioned as an Ensign in the aviation branch of the Navy in 1941. He retired from the Navy after the end of hostilities in WWII as Lt. Commander and took a year off living on the family farm in Somerset VA before starting work as a Sales Rep. with Rochester Ropes, Inc. in Culpepper VA. From there he moved to the Worth Steel Company in Claymont DE and then to the Aluminum Company of America (Alcoa) where he managed their White Plains, NY office. Following a 12 year stint at Alcoa he became the Export Manager for Sherman Industries in 1963 and remained with the company until his retirement in 1975. Close and and his wife, Betty, settled in Scarsdale in 1947 where they were long-time and very active members of Fox Meadow Tennis Club.
Close died at home in 1991 of a stroke.
Source: ??, Princeton University Ten Year Book entry submittal (1947) and personal communication from daughter Cynthia Close Larkin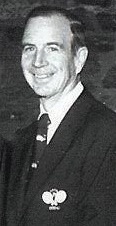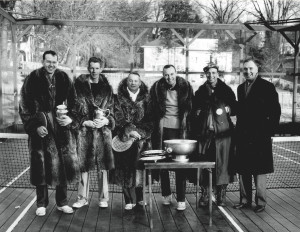 1959 Men's Nationals: Jim Gordon and Bill Cooper (champions) with Jim Carlisle and Dick Hebard (1959 finalists, but champions in 1955 and 1958). Also pictured are Walter Close, tournament chair from Fox Meadow Tennis Club, and umpire Jack Whitbeck. Close was APTA President at the time