First Platform Tennis Rule Book published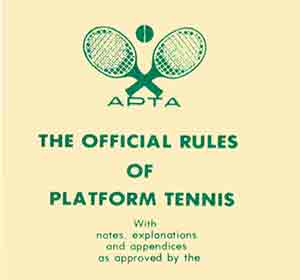 Bill Ballard spearheaded this initiative with assistance from Bob Brown.
Prior to the publication of this book the guidance on platform tennis rules simply stated: "The rules of platform tennis are the same as for tennis except for the one serve rule and play off the wires etc." The new Rule Book provided a comprehensive review of all the rules and regulations governing play.
The book was so well received that the first printing run of 6,000 copies quickly disappeared, necessitating a second printing in 1975.
The rules allowed a let to be played if a ball hit the crossbar, the angular beam between the side screen and the back screen which were standard on courts at the time. Eagle-eyed umpires who spotted an apparent ambiguity on this position involving Rules 2, 13, and 19, were informed that the overriding ruling was to be found at 13 (d), to wit, if the ball hits a crossbar, play a let.
The Rule Book also indicated that the standards for holes in paddles might be waived, so if a paddle didn't have between 52 and 74 holes, that didn't necessarily, make it illegal.
Sources: Off The Wire, Vol. 6 No. 1 and No. 3, and Robert A. Brown, personal communication