Coverage of Junior Nationals at Waynesborough Country Club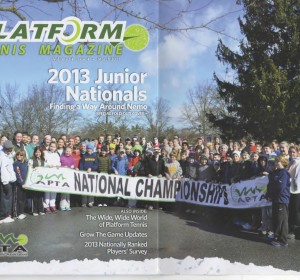 2013 APTA Junior Nationals by Barb Miles
Junior Nationals Slideshow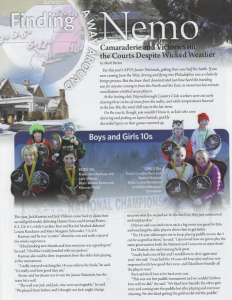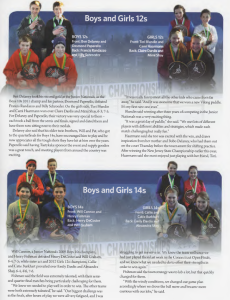 [click images to enlarge]
Source:
Platform Tennis Magazine
, Vol. 14, Issue 4, March, 2013
Camaraderie and Victories on the Courts Despite Wicked Weather
by Mark Berton
For this year's APTA Junior Nationals, getting there was half the battle. If you were coming from the West, driving and flying into Philadelphia was a relatively benign process. But the draw sheet demonstrated just how hard the traveling was for anyone coming in from the North and the East, as numerous last-minute cancellations whittled away players.
At the hosting club, Waynesborough Country Club, workers were out early clearing three inches of snow from the walks, and while temperatures hovered in the low 30s, the wind chill was in the low teens.
On the courts, though, you wouldn't know it, as kids who were shivering and putting on layers hut-side, quickly discarded layers as their games warmed up.
Boys and Girls 10s
Boys and Girls 12s Ben Delaney took his second gold at the Junior Nationals, as the Boys 10s 2011 champ and his partner, Desmond Paperello, defeated Francis Randazzo and Billy Schroeder. On the girl's side, Tori Blundin and Cann Haarmann won over Claire Dardis and Mimi Shay, 6-3, 7-5. For Delaney and Paperello, their victory was very special to them — each took a ball from the semis and finals, signed and dated them and have them now sitting next to their medals.
Delaney also said that his older twin brothers, Will and Pat, who got to the quarterfinals for Boys 14s, have encouraged him to play and he now appreciates all the tough shots they have hit at him over the years. Paperello said having Tastykake sponsor the event and supply goodies was a great touch, and meeting players from around the country was exciting.
"It was really fun to meet all the other kids who came from far away," he said. 'And it was awesome that we won a new Viking paddle. It's my first new one ever."
Blundin said winning after three years of competing in the Junior Nationals was a very exciting thing.
"It was a great day of paddle," she said. "We met lots of different players with different abilities and strategies, which made each match challenging but really fun:'
Haarmann said she too was excited with the win, and draws inspiration from her mother and Bobo Delaney, who had them out on the court Thursday before the tournament for shifting practice.
After winning the New Jersey State Championship earlier this year, Haarmann said she most enjoyed just playing with her friend, Tori.
Boys and Girls 14s Will Cannon, a Junior Nationals 2009 Boys 10s champion, and Henry Fishman defeated Henry DeCoster and Will Graham, 6-4, 7-5; while sister act and 2012 Girls 12s champions, Callie and Catie Burkhart prevailed over Emily Dardis and Alexandra Shay, 6-4, 416, 7-6.
Fishman said the field was extremely talented, with their semi- and quarter-final matches being particularly challenging for them.
"We knew we needed to play well in order to win. The other teams were both extremely talented," he said. "Our biggest challenge was in the finals, after hours of play, we were all very fatigued, and I was struggling to get my serve in. We knew the team well since we had just played them last week in the Connecticut Open Finals, and we knew what we needed to do to offset their strengths in order to win again."
Fishman said the team strategy was to lob a lot, but that quickly changed for them.
"With the windy conditions, we changed our game plan accordingly where we drove the ball more and became more cautious with our lobs," he said.
Boys and Girls 18s Brian Faig and Will Kleeman defeated Will Burger and Gardner Tregellas, 4-6, 6-4, 6-3. Kleeman was runner-up to Burger-Tregellas in the 2010 Boys 14s, but he and Faig dug deep, breaking between sets for water, Gatorade and to drop layer after layer of clothing until the match looked like it was being played on a June evening instead of the evening after an historic February Northeastern blizzard. The teams both artfully changed up their strokes and rhythms for the most watched game inside the hut.
Faig said that the finals were the culminations of a day of good play for himself and Kleeman.
"The other matches, they were competitive, but we played well over the course of the day. At a result, we didn't have any really close matches," he said. "[Burger and Tregallas] are really strong all around, and they have really strong games. My strategy was to play consistent, give my partner opportunities to drive the ball, mix it up and never give them the same look twice."
Kleeman said defending the serve was key for him.
"Our opponents were strong servers and had good hands. This took away one of our greatest strengths — return of serve: he said. "We took what we got and lobbed the ball deep to start off the point neutral. Our opponents were good at digging balls out of the screens, and lobbed well, setting up Tregallas' forehand lurking in the middle of the court. "
As a runner-up to Gardner-Tregellas in the Boys 14s, Kleeman said this victory was a dream rematch
"The scores from three years ago were identical, with similar changes in momentum, and a different outcome: he said. "It could have gone either way both times. Our competitors are highly competitive and have a similar skill level, making this finals match a true challenge."
Faig and Kleeman said they both intend to compete in the APTA Nationals with the grant money from the anonymous donor. "We're definitely planning on taking offer, and I'd like to thank the donor: Faig said. "That's a great opportunity that they gave us and we're going to try our best over there:'
Meghan Foster and Hannah Kratky, both Girls 14s champions in 2011, defeated Ashley Lyon and Stephanie Webster, 3-6, 6-1, 6-3.
"This win definitely feels good. With it only being our second year in the 18s, it was nice to grab this win. We are looking forward to playing in the Girls 18 & Under Nationals next year as well," Kratky said. "Meghan and I are extremely excited about the opportunity to play in the Women's Nationals. We will definitely take up that offer if
our schedules allow it."
Foster said that the team was able to practice together more this year, which helped them.
"It seems each year the competition just gets stronger and the draws are larger: she said. "There was definitely a lot more competition then we've had in the past. I was really glad we played who we played in the finals. They were great paddle players, and it was really frustrating to play them. They had amazing lobs: Foster emphasized. "We hadn't really had lobs all day from anyone else. They had great lobs and also
great drives which were difficult to handle."
Kratky said, despite some competitive play in the semi-finals, the finals was the biggest test of the day for them.
"After losing the first set fairly fast, I knew Lyon and Webster were going to be a very hard team to beat. It was really hard to pinpoint any weaknesses they had: she said. "Lyon's drives and Webster's lobs were a really hard combination to beat. After the first set Meghan and I took some time to regroup and talk. We decided that it was going to be a battle of consistency; it was a matter of who cracked first. Meghan and I got the win, but it definitely was not easy"