March is Platform Tennis Month in New Jersey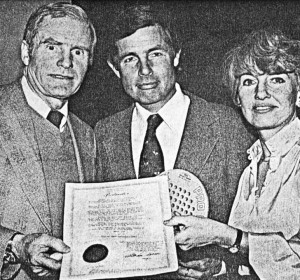 Governor Brendan T. Byrne, a stalwart supporter and player of platform tennis, signed a proclamation on February 28 designating March as "Platform Tennis Month in New Jersey." Present at the ceremony, which took place at the State House in Trenton, were APTA president Robert Kingsbury and executive director Gloria Dillenbeck. Below is the text of the proclamation.
PROCLAMATION
WHEREAS, the sport of platform tennis is gaining marked popularity as a source
of intense competition, fast action and excitement; and . .
WHEREAS, several thousand New Jerseyans are among the thousands across the
country being drawn to this new exciting game; and
WHEREAS, New Jersey has been selected for the first time as the site of the American Platform Tennis National Men's and Women's Platform Tennis Championships, the 1980 Passport event, to be held at the Montclair Golf Club in West Orange on March 28-30, 1980; and
WHEREAS, the Garden State has also been selected as the site of the National
Junior Platform Tennis Championships to be held at the Orange Lawn Tennis Club,
on March 8 & 9, 1980; and
WHEREAS, active participation in sports of all types substantially heIps in building
and maintaining a healthy body and clear mental outlook; .
NOW, THEREFORE, I, BRENDAN BYRNE, Governor of the State of New
Jersey, do hereby proclaim March, 1980 as PLATFORM TENNIS CHAMPIONSHIP
MONTH in New Jersey.
Source: Platform Tennis, March 1980