Mixed Nationals coverage and Rankings. Delmonico and Stulac win Mixed and Husband/Wife on same weekend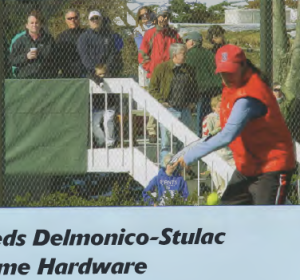 March 2nd, 2008, New Canaan, CT – Judging by the number of silver-plate platters they took home, you would think that newlyweds Kerri Delmonico and Mike Stulac of New York City registered at the New Canaan gift store "That Personal Touch."
Delmonico and Stulac, who were married this past year, pulled off a rare double feat, winning two National Platform Tennis Championships in a single weekend. On Friday, February 29th, they won their first National Husband-Wife Championship, defeating Tonia and Tim Mangan of Bayville, NY by a score of 6-1, 6-3. Two days later on March 2nd, they won their first National Mixed Doubles Open title, defeating three-time winner Cindy Prendergast of Wilmington, DE, and her partner, Rusty Wright, also in straight sets, 6-3, 6-2.
It was an exciting weekend of platform tennis in New Canaan as the three-day event drew 188 players from across the country, traveling from as far away as Michigan, Illinois, Ohio, Delaware, Pennsylvania, Vermont, Rhode Island, and even Canada, to play in the prestigious championships.
Tournament Director Mike Gillespie said that hosting a National Championship tournament is a tremendous honor for New Canaan. "We were very excited when the APTA, recognizing the tremendous rebirth and growth of platform tennis here, allowed us to host such a prestigious tournament in a town that is such an important part of the game's rich history." Gillespie himself is a former mixed doubles champion, winning in 1989 with fellow teaching pro Gerri Viant, as well as being a finalist in 1988 and 1990.
Co-Tournament Director Scott Slobin said that the 2008 tournament was among the broadest and deepest talent in recent memory. In addition to defending champs Bobo Delaney and John Milbank, both of the reigning men's National Champions were in the draw: Mike Cochrane partnered with Aila Main; and Scott Estes, Jr., played with his sister Jill Feher. Slobin, who also played with his sister, Sheri Shea, added that because platform tennis is a game that rewards patience and thoughtful shot making over speed and raw power, it is a perfect game for players of both genders and different generations to compete on the same court. In addition to Scott Estes, Jr., his father Scott Estes, Sr. played in the tournament, partnering with Joanne O'Shaughnessy. And there was even a mother-son team in the draw; Christy and Todd Schaefer of Hinsdale, IL teamed up to win the Mixed Open Consolation Final.
New Canaan Park & Recreation Commission member Steve Caccam, who also oversaw the Husband-Wife and Husband-Wife Over 50 events on Friday, was especially pleased to have a number of local teams take the opportunity to compete in the various draws. "Ever since the construction of the four new public courts in Waveny Park in the fall of 2004, and with the renovation of Waveny Lodge nearly completed, participation in our local men's and women's leagues is at record levels. This tournament was a great opportunity for some of our best local players to experience and witness competition at this level."
God smiled brightly on the first day of competition as bright sunshine and temperatures in the low 40s set the backdrop for some great paddle in the Husband-Wife and Husband- Wife Over 50 championships.
Things started off as expected in the first two rounds with all top four seeds advancing to the quarter-finals. In the bottom-half of the draw, Long Island favorites Tonia and Tim Mangan headed straight to a place they've been many times before, defeating Aila & Tim Main in the quarters and edging out Daniela Pino & Rusty Wright in the semi's, setting up an all-New York final. The only question was whether their opponents would be Delmonico & Stulac from NYC or upstaters Fritz & Sandra Odenbach. The Odenbachs, gracious to come down and compete less than two weeks before they hosted the Open Nationals in Rochester, battled the newlyweds for nearly two hours in what was until then the best match of the day. Delmonico & Stulac won their semi, 6-3, 6-4, advancing to the finals. The final was an exciting finish for dozens of spectators at the New Canaan Field Club who witnessed Delmonico & Stulac defeat the Mangans, 6-1, 6-3.
Also on Friday, Rhode Islanders Karen & Peter Lyons defeated New Jerseyans Dori & Ken Persson in the Husband-Wife Over 50 final. The thrilling three-set victory, 6-3, 6-7, 6-3 over the defending champion Perssons capped off an exciting week for Peter.
An overnight storm Friday night left a thin dusting of snow on the courts for Saturday morning, but maintenance crews at the sixclubs made sure the courts were all safe and dry for the 8 a.m. matches. Morning matches were played in a wide variety of weather conditions. Dark clouds required the use of lights at 9:00 a.m., only to make way for bright sunshine an hour later that had nearly all players using sunglasses. But before the lunch break, a light drizzle shifted to snow flurries, requiring wardrobe
changes at nearly every changeover.
As a testament to the growing competition in platform tennis, there were two major upsets in the main draw In the third round, the No.1-seed, four-time winners and current defending champions Bobo Delaney and John Milbank were ousted by the very steady Sandra Krusos and big-hitting Randy Vigmostad of Long Island, 7-5, 2-6, 7-5. Both are very accomplished tennis players; Krusos won two Pac 10 and NCAA Division I singles tennis titles while at Stanford University. Vigmostad, played on the men's professional tour. Another surprise occurred in the quarter-finals of the tournament when Kelly van Calcar and Mark Ruppert upset the No. 2-seeded team of Aila Main and Mike Cochrane, 7-5, 3-6, 6-4.
Among the many local teams competing in the Steve & Trish Griggs, Katie & Mark Bliss, Winners and Finalists of Husband-Wife Over 50 championships, New Canaan's Meg Brossy paired with Juan Arraya of Greenwich and played one of the most exciting matches of the tournament, being narrowly edged out in the quarter-finals by Krusos-Vigmostad, 7-6 (6), 7-5.
Day 2 of the Mixed Open had cold and breezy but sunny weather. Van Calcar-Ruppert put up a valiant second-set effort after a disappointing first set, but eventually succumbing to the more experienced Delmonico-Stulac, 6-0, 7-5. In the other semi, three-time winner Cindy Prendergast and partner Rusty Wright outlasted a bold effort from Krusos-Vigmostad, winning 4-6, 6-2, 6-3 to get to the final.
The final played was a classic contrast in playing styles. On one side of the net was the always crafty Wright with his variety of reverse-spin serves and last-second flicking drives off the back screen, paired with the incredibly steady veteran champ Prendergast. On the opposing side of the net were the very athletic Delmonico and aggressive, poaching, slashing Stulac. In the end, on this day, it was the constant pressure of the hard-driving Delmonico-Stulac pair that won out, 6-3, 6-2, in an exciting final match of the tournament.
Source: Platform Tennis Magazine, Vol. 9., Issue 5, May, 2008