Senior Men's Nationals coverage and Rankings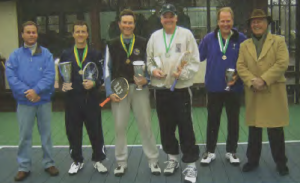 Senior 45's Jean Kempner, Flip Goodspeed, Scott Mansager, Scott Bondurant, Bill, Fiedler, Howard Sipe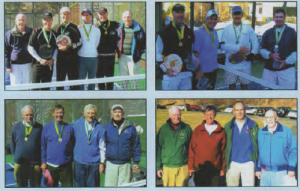 [click to enlarge] TOP LEFT: Senior 50's: Bob Brown, John Stefanik, Tim McAvoy, Jim Kaufman, Bob Kleinert, Paul Doyle TOP RIGHT: Senior 60's: Scott Estes, Sr., Dan Galves, Tom Caputo, Gary Cochrane LOWER LEFT: Senior 70's: Bill Childs, Rich Lombard, Roy Anderson, Bob Callaway LOWER RIGHT: Senior 145's: Bill Childs, Rich Lombard, George Lynch, Bob Brown

[click to enlarge]
Men's 45+, 55+ and 65+ Nationals:
After a ten year absence, the Senior Nationals returned to Chicago this March and 3 National Championships were claimed.
Starting what promises to be a record-breaking streak, Scott Mansager and Flip Goodspeed took their first 45′s crown together without dropping a set. They beat always tough Scott Bondurant and Bill Fiedler in the finals after defeating Rob Pierce and Leo Power in a 2 1/2 hour 6-3, 6-3 semi. Bondo and Fiedler took down Todd Ward and Dan Mott in the other semi in a tough two-setter. Thirty teams played in the division and the competition was strong all weekend.
In the 55′s, Jean Kempner and Jim McNitt defeated Hall of Famers Hank Irvine and Steve Baird 6-2, 6-3 in the final after Irvine and Baird had beaten Scott Estes and Jeff "Dr. Detroit" Hodges in a close and entertaining semi.
The 65′s saw the team of Jim Bishop and Mike Hannah claim their first ever National title. They defeated past National Champions Alan Graham and Stu Opdyke in a tight 3-setter that was in doubt until the final game. Congratulations to Jim and Mike on their first medal performance.
The tournament committee of Alan Graham, Howard Sipe, Jean Kempner, and John Noble wants to thank all the volunteers and the players who traveled for the event. Overall, 54 teams competed and everyone was treated to lots of paddle and the usual great Chicago hospitality.
Source: Jean Kempner, Platform Tennis Magazine, Vol. 9, Issue 5, May, 2008
Men's 50+, 60+, 70+, 145+
The 2008 Platform Tennis Senior Nationals for age categories 50+, 60+, 70+, and 145+(combined ages) were contested over the four day weekend February 21-24, 2008.
The 145+ event was held at Sleepy Hollow Country Club, chaired by Rich Lombard. The other three senior events were held at the Fox Meadow Tennis Club in Scarsdale, New York, and were chaired by Bob Brown and Paul Doyle.
The 50+ event was won by Bob Kleinert from Franklin Lakes, New Jersey, and Jim Kaufman from Greenwich, Connecticut, in straight sets 6-4, 6-2 over the top-seeded team of Tim McAvoy and John Stefanik from Pennsylvania.
In the 60+ event, Gary Cochrane of Scarsdale, New York, and Tom Caputo of Greenwich, Connecticut, reached the final, losing to the defending champions- Scott Estes, Sr. from New Jersey and Dan Galves from Savannah, Georgia, 6-0, 6-3.
In the70+ event, Bill Childs from Vermont and Rich Lombard from New York City defeated Roy Anderson and Bob Callaway, both from Greenwich, 3-6, 6-2, 6-2.
In the 145+ event, Childs and Lombard repeated, winning the final over Bob Brown of Scarsdale and George Lynch from Vermont, 6-4, 6-3.
For the first time in many years, the weather was a factor, as the snow storm on Friday caused the postponement of the 60+ tournament to Sunday. Most teams were able and willing to accomodate the change in schedule.
Over the extended weekend, some stellar platform tennis play was witnessed by some small, enthusiastic audiences, especially in the final of the 50+ championship.
Source: Platform Tennis Magazine, Vol. 9, Issue 5, May, 2008
Men's 145+ is Alive and Well (Mostly)!
February 21st at the Sleepy Hollow Country Club in Scarborough, New York, turned out to be clear and cold as 13 teams battled for a day of old-time paddle camaraderie.
The sign-up draw was a full 16 (a record for the event) but three teams withdrew due to two heart attacks, one pacemaker implant, one hospitalization with leg injury and a bad back (all normal occurances for those at this age).
For those 26 players who showed at 9:30 a.m., there were up to five matches with the tournament concluding at 4 p.m.; after which an early dinner at a local restaurant was well attended.
The consolation evolved into a five-team round robin where 80-year-old Vince Greco and younger/faster partner Rick Reuter edged out John Stofell and Sid Schwager for top honors. Thank you to Beach Kuhl for traveling from Ross, California, to participate with Carlos Vallejo in the consolation.
The day's best match award went to Alph Beane and newcomer Bob Cushman in the reprieve who were bested in the finals by veterans of senior paddle- Dick Bower and Larry Sturgis
6-7, 7-6, 7-5 in a show of endurance in their fourth match of the day.
In the championships, the semi-finalists found Alan Goldman and Roger Kling being outlasted by the 80-year-old veteran Bob Brown and his youthful friend George Lynch 2-6, 6-4, 6 4. Meanwhile, the defending champions- Blair LeRoy and Herb Bascome succumbed to a new pair of younger upstarts – Bill Childs and Rich Lombard, 6-3, 6-2.
The finals were hotly contested with Childs and Lombard emerging victorious, 6-3, 6-3.
The good news – 26 players from eight states had a wonderful day with everyone playing all day. Thank you to Bertan Cikigil for managing the day.
The bad news – during the walk to the bathroom facilities (50 yards), the majority of players forgot the four-digit door combination code – so adjustments had to be made.
Source: Richard Lombard, Platform Tennis Magazine, Vol. 9, Issue 5, May, 2008