National Championships – Men's and Women's Nationals played in a blizzard; Juniors travel to Kalamazzo, MI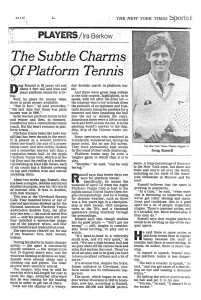 New York Times, March 29, 1984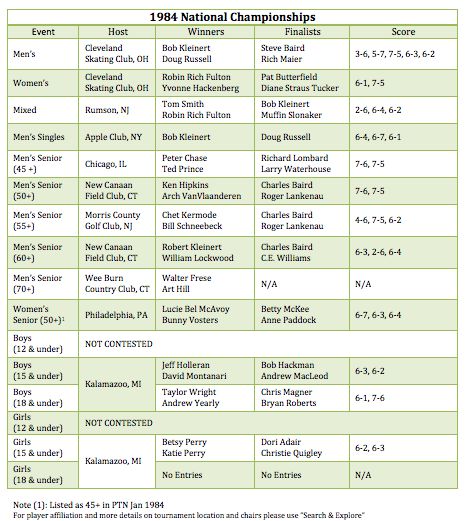 Jim McCready filed a report on the Cleveland Nationals in PTN, April 1984
For five days, the heart and spirit of platform tennis were in Cleveland at the National Championships. From March 7-11, the top men and women competed for the titles, as well as the President's Cup crown. Near-blizzard conditions and 15-degree temperature were the norm for most of the event. In the women's event, which fielded a full 64-team draw, 400 fans braved the icy cold to watch Robin Fulton, the previous year's champion, and Yvonne Hackenberg, four-time champ, pair up to defeat Pat Butterfield and Diane Tucker.
On the men's side, 96 teams competed, including the New York-based team of Steve Baird of Harrison and Rich Maier of Nyack, who were seeking their fifth straight title. In the finals, they got off to a fast and deliberate start by winning the first two sets 6-3, 7-5. However, the four matches played the previous day and the difficult semifinals began to take its toll on all four competitors. Winning was now a matter of will and endurance. Kleinert-Russell won the pivotal third set 7-5, and the fourth set 6-3. The crown was theirs, as they went on to a 6-2 victory in the fifth set.
Quotable Quotes: Not for the faint-hearted, our sport. Here's what champion Yvonne Hackenberg had to say about the cold: "The cold weather is invigorating. Even if the wind chill factor is well below zero, we are prepared for it. It's like hanging your laundry outside. It's fresher that way." ( ••• uh-huh).
And from champion Doug Russell: "This wasn't the coldest tournament I've played in. I remember Chicago a few years back when the wind chill factor was 40 degrees below zero."
Source: Platform Tennis News, April 1984
The Junior Nationals were held in Kalamazoo, MI. The APTA had been having great difficulty finding volunteers to host the Juniors and Yvonne Hackenberg had stepped up when others had declined. The alternative would have been no Junior championships.
Source: Letter of December 29, 1983 from Diane Rinaldi, Executive Secretary of APTA, to Harriette Weil