National Championships and coverage of Men's and Women's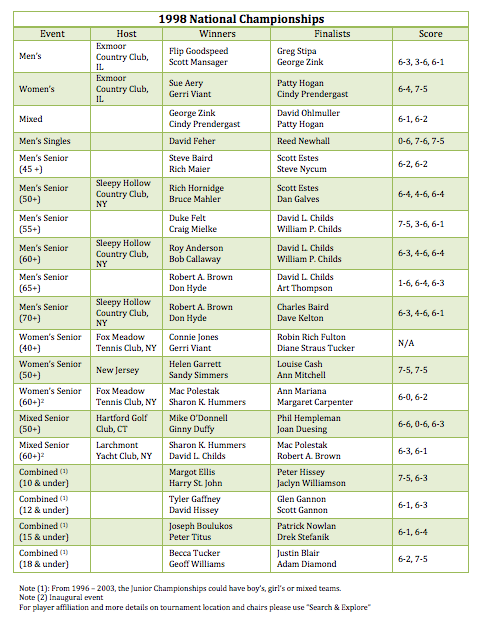 PTN Spring 1998 covered the Men's and Women's Nationals:
Chicago brought its own special flavor to the 1998 National Championships. Players beat an early week blizzard and braved exceptionally cold weather on both Saturday and Sunday. The Saturday night party was stylish with a swing band, very special speeches, and even a hand-made sweater for Chairperson Sonja Fischer. The night brought old friends together and helped new acquaintances to form.
With a men's entry of 128 teams and an unprecedented women's draw of 96 teams, Chicago hosted more players than any of the previous Championships. All matches were outstanding, with topnotch play from the early rounds on. Flip Goodspeed/Scott Mansager came out on top again in the men's play. The crowd's loudest cheers, however, were for former champion Dave Ohlmuller who returned to action after being severely injured in a hit and run car accident two years ago.
On the women's side, Sue Aery/Gerri Viant took the title defeating Patty Hogan/Cindy Prendergast. Notable was the performance of Nationals newcomers, Sandra Birch/Julie Dodd, who were strong in advancing to the semis.
Source: Platform Tennis News, Spring 1998