Stephen W. Baird elected APTA President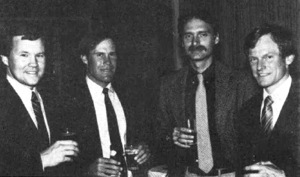 Baird's comments on becoming APTA President:
People everywhere are recognizing that the overall success of a platform tennis program is linked directly to how well those in charge organize the event and promote the social part of the weekend.
I think that paddle appears to be finding its niche after a brief period when we may
have lost sight of the game's strengths. I'm very optimistic about the next several years because I can see definite signs that we've begun to return to many of the traditions that sparked the tremendous growth of about fifteen to twenty percent per year during the 1968-1978 period.
One significant trend is the continued interest in League play throughout the country. Competition for a spot on the club team is stronger than at anytime in the past three years. The northern New Jersey leagues for men and women are probably the best examples of how to organize and run inter-club league play. Hundreds of club players turn out each week to compete, meet new friends and enjoy themselves.
Another trend is the rising interest in senior paddle, particularly in the 45+ age bracket. This has grown from almost nothing into a major series of events in all regions.
Source: Platform Tennis News May-June, 1982