The paddle evolves into the form used for almost the next four decades before innovations in the early 1970s; Jim Tate covers the history of the paddle through the early 1990s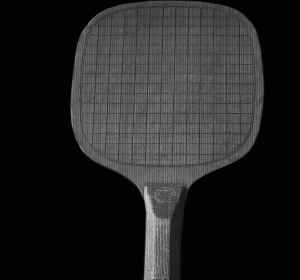 In the early stages of the game, players used the lightweight, solid, rectangular shaped paddle (The Paddle Tennis Company's standard paddle), but it was too light for a fast game.
At the request of the Old Army Athletes The Paddle Tennis Company1 modified the shape of the paddle to a more oval design and added holes (the Tennette paddle) but this also proved to be too light and the edges tended to chip as there was no protective rim. A perforated, oval, mahogany stained paddle with a metal binding around its edges proved to be the answer and was first introduced in the late 1930s. It became the standard for the next four decades despite several efforts by the APTA to investigate better alternatives.
After the 1930s, the history of the paddle gets a little fuzzy. Apparently, the Reverend Frank Beal, who had invented playground paddle tennis, had a son who was living in the Scranton, Pennsylvania, area. This son met a local woodworker named Jankus, who could make paddles. Young Beal arranged to have Jankus produce paddles for both platform and paddle tennis. Reverend Beal would place an order through his son and Jankus would assemble them. Beal's son would then load his car and head for Manhattan. It was a "catch as catch can" operation, according to Clint Sekol Jr., whose father bought the Dalton Manufacturing Company (the Jankus-Beal business) in 1950.
Source: Adapted from Fessenden S. Blanchard, Paddle Tennis, 1944, and Platform Paddle Tennis, 1959; and an article by Jim Tate in Platform Tennis News>and in the 1991 National Championship Tournament Brochure pp 18-19
In the 1970s and early 1980s new materials (fiberglass, foam composites, aluminum honeycomb,etc.) and construction techniques spurred a series of innovations which has continued unabated.
One of the most notable early innovations came in 1981 when Rich Maier, a multi-time APTA National Champion, formed Advanced Recreation Design with Andreas Schuler and introduced the Skymar paddle based on patent they had obtained.
Note 1: The Paddle Tennis Company was formed in 1922 by Rev Beal and Frank Contessa. It was sold in 1926 to the G. Lynn Sumner Company, a Madison Avenue advertising firm – see Frank B. Contessa
Source: Fessenden S. Blanchard, Paddle Tennis, 1944
Historical Factoid: Fessenden Blanchard on choice of serve or side: "Nails vs. No Nails: —By 'nails or no nails' we refer to the paddle tennis equivalent for 'rough or smooth,' when tossing up for choice of court or serve. Where the two leather ends come together, four tiny nails hold them. On the other side is one nail. The first side is 'nails,' the second, incorrectly, is 'no nails'."