First APTA-sanctioned professional tournament – Vat Gold Cup International at Hilton Head – Kingsbury and Mangan win a thriller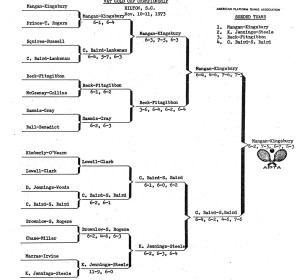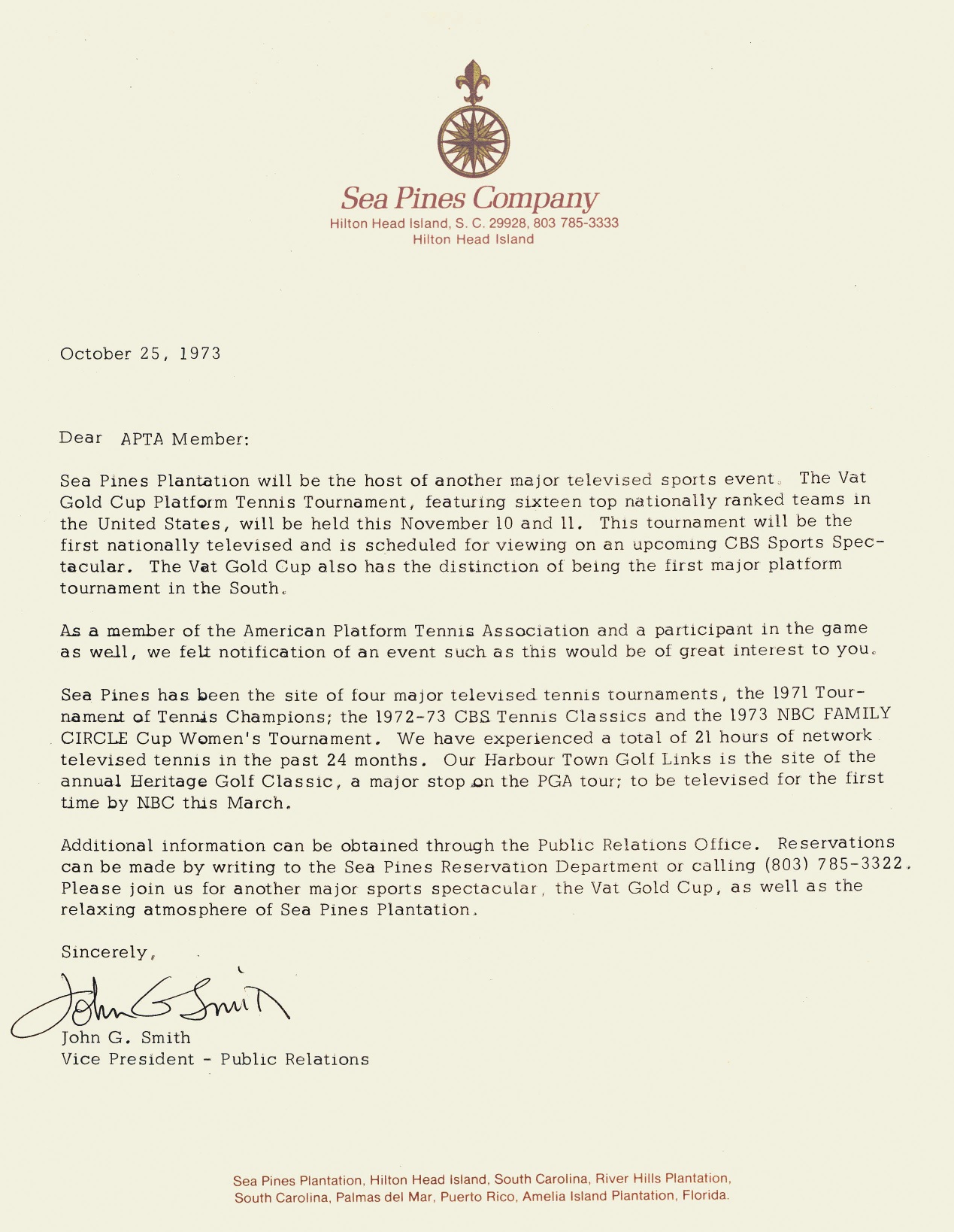 Letter to APTA members from Sea Pines Company providing details on the Vat Gold Cup Platform Tennis Tournament
Dick Squires organized the first truly commercial play-for-pay event. Sea Pines Plantation, in Hilton Head Island, SC, hosted the first Vat Gold Cup Invitational Tournament on November 10-11. It was also the first major platform tennis competition to be played in the Deep South.
The marketers of Vat 69 Gold, a brand of scotch whiskey, appreciated the demographic appeal of platform tennis enthusiasts. For the first time, top teams competed for money. The purse was $10,000, and "CBS Sports Spectacular" broadcasted highlights.
The New York Times covered the event in an article by Charles Friedman, entitled "And Now a Word for Platform Tennis" in the Sunday, November 18th edition.
For the event, the top sixteen men's teams in the country were invited to participate. The offer included all-expense-paid travel, and the winners received a ten-day trip to Europe courtesy of National Distillers. Eleven of the top sixteen teams agreed to play, and Sea Pines built four courts just for the tournament. Bob Brown chaired the Championship match.
Although South Carolina can be warm during November, the weather cooperated. A cold front blanketed the area during the tournament, and the temperatures fell to as low as 35 degrees.
Bob Kingsbury and John Mangan won the tournament in an exciting four set final over Chip Baird and Steve Baird. Hundreds of spectators, many of whom were new to the sport, took in the final. The match has been described as one of the most thrilling ever, and Kingsbury and Mangan celebrated by being bathed in scotch.
The winning team received $3,000 for a trip to Europe.
Source: Off The Wire, Vol. 5 No. 1, and Charles Friedman, New York Times, November 18, 1973