Hall of Fame Induction: 2022 Ana Brzova has achieved excellence in the sport as one of the most dominating female platform tennis players in the game from 2012 thru 2015. Most tennis players pick up the game quickly, but few have found the success of winning three consecutive Nationals Championships with two different partners and achieving a National #1 ranking.
2010  Brzova partnered with Judy Arden and finished the season ranked #16 in the country.
2011  Established the Brzova/Stoklasova team in their first season together with a national ranking of #7.
2012-2013  This team dominated the tour knocking off the 2012 National Champions Cindy Prendergast/Lauren Zink on the way to their first National Championship in 2013, on Brzova's home turf at The Indian Trail Club in Franklin Lakes, NJ.
2014  Brzova/Stoklasova won back-to-back National Championships with a win at The Fox Chapel Racquet Club in Pittsburgh.
2015  Brzova partnered with Liz Cruz—it was the first time they stepped on the court together—and extended her National Championship count total to three.
2018-2019  After a two-year injury hiatus, she found success with many partners in Grand Prix tournaments and reached the semifinals at Nationals with Amy Shay.
2020-2021  Brzova won the Lake Invitational with Roxy Enica; this partnership also saw two semifinal finishes at Grand Prix events in Boston and Short Hills.
Brzova, born in Macedonia, was the daughter of a diplomat. She found success in volleyball in Australia and Yugoslavia and junior tennis around the world. She played volleyball and tennis at Iona College, earning her MBA in Finance.
She possesses great foot speed and the mental fortitude and passion to succeed. She thrives on competing at the highest level.
Director of Racquet Sports at The Sunningdale Country Club in Scarsdale, NY, and was instrumental in initiating the new paddle program at the club in 2020.
Head Platform Tennis Professional at Indian Trail Club, Franklin Lakes, NJ, since 2010.
Ranking History
2010-2011 – #16 with Judy Arden
2011-2012 – #7 with Viki Stoklasova
2012 2013 – #1 with Viki Stoklasova
2013-2014 – #1 with Viki Stoklasova
2014-2015 – #1 with Viki Stoklasova
2015-2016 – #4 with Viki Stoklasova
2019-2020 – #9 with Roxy Enica
TEAM ANA BRZOVA + VIKI STOKLASOVA
2011  The partnership was born. Ranked #7 In their first season.

2012-2015  Ranked #1 for three years running.

2013 and 2014  Won back-to back National Championships.

Affectionately known as the Ovas.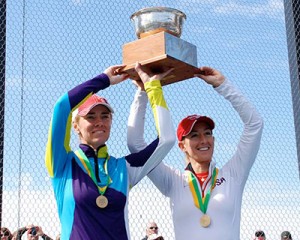 2022 HOF Inductees