(1959 -)

Hall of Fame Induction: 2016

Bobo should have had the genes for playing the game as her mother, Nancy, and uncle, John, are members of the Hall of Fame. The fact that she did became apparent when she made her first mark on the game at the age of 16 when she won the Junior Nationals. She won again two years later and went on to win the Nationals in 1989 with long-time partner Sarah Krieger. However, it was in Mixed Nationals where she compiled a record up there with the likes of Hilary Hilton Marold and Charlotte Lee, winning five titles with the last one being 22 years after her Women's National title.

In the Senior Nationals she continued her winning ways and at the time of her induction she had six Women's 40+ tiles, five Women's 50+ titles and one Mixed 50+ title.

Bobo is considered to be a master strategist and a real grinder ("She gives you nothing") on the court; off the court it is a different story as she loves the camaraderie of the game.
Bobo Mangan Delaney started playing paddle at the Short Hills Club in New Jersey under the tutelage of Hank Irvine (HOF 1995 ) who recognized her potential to be a top-ranked player given her focus and determination as well as genetic heritage – Mother Nancy Mangan (HOF 1992 ) and uncle John Mangan (HOF 2007)
During her long and successful career on the paddle courts she became widely known as a master strategist who comes to each match with a game plan, sticks to it, and battles for every point. As one of her long-time competitors said succinctly, "She gives you nothing" and this is why many people call Bobo one of the greatest grinders of all time – a supreme compliment in paddle. Other parts of her game that were outstanding were her volleying aided by quick reflexes and her "blitzes," charging into net to put away a winner.
Bobo captured her first APTA National title –the 1976 Junior Nationals – at the age of 16 with Lynn Kafer and repeated the achievement two years later with Sarah Krieger who became a long-time partner and the pair went on to win the Women's Nationals eleven years later in 1989.
When it came to Mixed Nationals Bobo was right up there with two greats, Hilary Hilton Marold (HOF 1998) and Charlotte Lee (HOF 1996), amassing five titles – four with John "The Stork" Milbank (2002, 2003, 2005, 2007) and one with Steve "The Dagger" DeRose (2011). The last title came an astonishing 22 years after that first Women's Nationals title in 1989 a tribute to her physical fitness (she was a frequent triathlon participant), perseverance and willpower.
Not surprisingly she proceeded to accumulate a stellar Senior Nationals record winning six Women's 40+ Nationals (and three as a Finalist), five Women's 50+ Nationals (and three as a Finalist), and one Mixed 50+ Nationals (and three as a Finalist).
Bobo loves the infectious camaraderie of the game and is respected and admired by all who have player with her or against her for her sportsmanship. She has been a professional in the game for over three decades and is known as an enthusiastic and devoted teacher of the game – witness the fact that her daughter, Corey, has won six Junior Nationals including four straight Girl's 18 and Under (2009-2012), but maybe those genes also helped.

Induction Ceremony remarks by Steve Baird: 2016 Bobo Delaney HOF Induction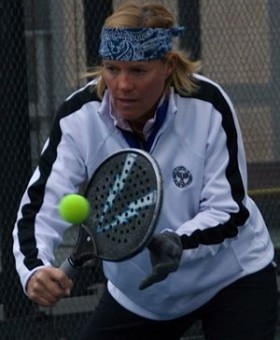 Watch Steve Baird's Induction Video
Video of Bobo's acceptance speech
Player Profile from PTM Vo. 12, Issue 5, April 2011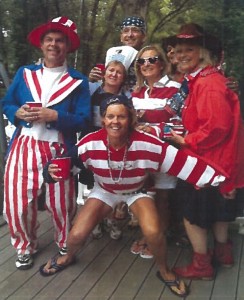 The camaraderie of the game!