(1918-1994)
Honor Award Induction: 1969

Hall of Fame Induction: 1996
Harrison won the National Men's in 1956 and 1960 and the Men's 45+ in 1963. He was active in the APTA as chairman of the Rules and Equipment Committee and, during his tenure and through his efforts, the
yellow-orange ball
that replaced the original white ball was introduced and became the ball standard until the modern yellow ball was adopted.
(Fox Meadow Tennis Club).
Harrison didn't play as much lawn tennis as platform tennis, but that didn't seem to have put him at any disadvantage on the paddle court. He acquitted himself well in any tournament he entered and was always a potential finalist. He won the Men's Nationals in 1956 and 1960, was runner-up in 1951 and 1958, and a semi-finalist numerous times. He won the Men's 45+ in 1963 and was runner-up in the Men's 50+ in 1968.
George was extremely agile and his play was typified by amazingly fast reactions at net, which made him an excellent volleyer. Besides agility, he also possessed a tremendously strong forehand. Partners and opponents alike agree that few people hit a harder forehand, which gave him a consistent and dangerous return of service.
Harrison was active in the APTA as Rules and Equipment chairman and during his tenure, and through his efforts, the yellow-orange ball that replaced the original white ball was introduced and became the ball standard until the modern yellow ball was introduced in 1972 He and his partner, William Pardoe, played together over a long period of time, and they typify that great sense of teamwork, which is a prerequisite in all championship teams
Induction Ceremony Remarks at Fox Meadow Tennis Club: Harrison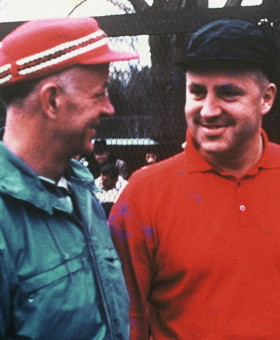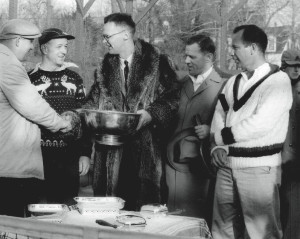 The awards presentation at the 1956 Men's Nationals (from left): Bill Pardoe, George Harrison, Ted Cook (APTA president and tournament chair), Don McNeill, and Herman Schaefer - Source: Fox Meadow Tennis Club - The First Hundred Years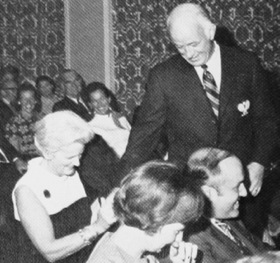 Shirley Harrison inspects the tailoring of George's newly-won Green Jacket at the Honor Award ceremony in 1969 - Source: Fox Meadow Tennis Club - The First Hundred Years