(1943 - )

Honor Award Induction: 1995

Hall of Fame Induction: 1996

Hank Irvine was a player who changed the game and was always exciting to watch. His shot-making and control of the ball set new standards, and he had great hands and ease of stroke, coupled with economy of body movement and consistency. He started playing and teaching the game in 1973, when he became head pro at the Short Hills Club after immigrating from Rhodesia (now Zimbabwe). By 1997, he had won his first National Men's with Herb Fitz Gibbon; they repeated the following year. Six years later, he again won back-to-back Men's nationals in 1986 and 1987. In the senior events he won the 50+ once, the 55+ four times, the 60+ three times and the 65+ once. Hank was a wonderful ambassador for the sport as a teacher and devoted much time to the development of juniors. (Short Hills Club).
Irvine was born and raised in Rhodesia, now the Republic of Zimbabwe, and coming from a tennis playing family—his Father was a tennis coach—started playing tennis as a young boy. He played tennis, cricket, squash and field hockey at Prince Edward High School in Salisbury (now Harare) and, after high school, he taught at a Primary School in Salisbury. He played on the Rhodesian field hockey team and had a chance to go to the Tokyo Olympics in 1964, but decided to concentrate on tennis instead. He represented Rhodesia in the Davis Cup in 1968 and 1969, which provided some interesting moments given the politics of the day (Rhodesia was banned from the Davis Cup in 1970), and held the number one tennis ranking in his country in both 1970 and 1971. If that was not enough, Irvine was also a world-ranked squash player and played against Australia, South Africa, and Great Britain in International matches. He played on the tennis tour for five years, beginning in 1968, which was the first year of the so-called Open tennis movement. Although Hank admits he didn't set the world on fire with his tennis skills, he did get to the semis of the Mixed Doubles with Australian Helen Gourlay at Wimbledon in 1970, and played Stan Smith in the second round at Wimbledon in 1972, which was the year Smith won the Championship. His Wimbledon experiences are a highlight in his career . He once recalled, "It was like going to Heaven. It is the Mecca of tennis. You go out there the first time and it is a nerve-racking experience. The one and only time I got to play on Centre Court, I had to go on after the five-set final of the Men's Doubles between John Newcombe and Tony Roche and Ken Rosewall and Fred Stolle, which was very intimidating to say the least. But it was fun and it is an experience I will never forget, and will have with me until the day I drop down dead."
Although Hank made his initial mark on racquet sports as an accomplished tennis and squash player and teacher, he became one of the great champions of platform tennis. That he played paddle at all was fortuitous. He was a school teacher by vocation and a tournament tennis player, on tour in the United States in 1971, where he played at the Orange Lawn Tennis Tournament and the U.S. Open. The latter was then at the venerable West Side Tennis Club at Forest Hills. At the time, he was looking for a career change and the contacts he made while playing at the Orange Lawn Tennis Tournament, and his consummate racquet and teaching skills culminated in his being tapped for the head professional job at the Short Hills Club in 1973. He had no love for cold weather, had never experienced snow, and if you had squash indoors in the winter, why would anyone ever play platform tennis outdoors? Well, in this case, it came with the job description. So here he was, a man who had never even seen a paddle court, teaching the game as if born to it. As with all his teaching, it was done with considerable patience, humor, and dedication, and much respect from those whom he taught. As he once commented, "the easiest way to improve your own game is to go out and have to teach it to somebody else!!"
Every so often, a player comes along who changes the game, makes it his own and brings something new to it, and Hank Irvine was such a player. He was always exciting to watch, and his shot-making and control of the ball set new standards. He had, great hands and ease of stroke, coupled with economy of body movement and consistency, which is the key to platform tennis. And, he accomplished this with the old Dalton, the standard wooden paddle used in the '70s. He began to play competitively, locally and then nationally, and teamed with another Davis Cup player, Herb Fitz Gibbon, to win the APTA National Championships in 1977 and 1978, and to be a finalist in 1980. Six years later, while in his mid 40s, he again had back to back victories, winning the Nationals in 1986 and 1987 with fellow Short Hills pro Greg Moore. Those two victories broke up what could have been an almost straight twelve-year era of domination by Steve Baird and Rich Maier. In the fifty-nine years of National Tournament play at the time of his induction, he was one of only five players who had won the Men's Nationals four or more times. He was also a finalist in the Mixed Nationals in 1976.
In senior play, Hank also had a fine record winning the Men's Senior Nationals 50+ once in 2002, the 55+ four times (2001, 2003, 2005, and 2006), the 60+ three times (2004, 2005, and 2006), and the 65+ in 2009. He was a finalist in the 50+ in 2005, the 55+ in 2004, 2007 and 2008, and the 60+ in 2007.
Irvine had a depth of character and degree of sportsmanship that set him apart and brought to our game an excellence many of us strive for and few attain, coupled with an attitude atypical in competitive sports, particularly at the highest levels. He is a remarkable player and, by all counts, as loved as any man can be. When he became a U.S. citizen, his many friends were as excited as he was. A true friend, and a true gentleman who imparted so much to the game, to those he taught, both young and old, and to those who watched him play.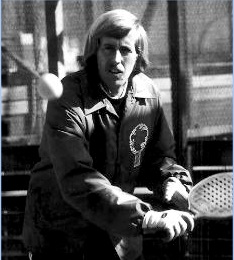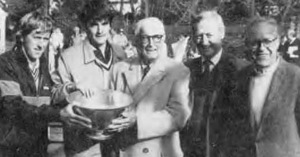 Kilmarx presents Championship Bowl to 1986 winners Hank Irvine and Greg Moore. Paul Molloy and Dick Warren are on the right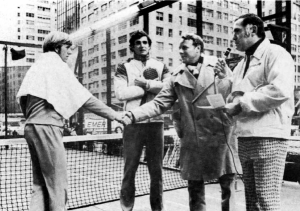 Robert E. Schott, vice president, Uniroyal, Inc., Consumer Products
Division, left, presents $10,000 prize money to Hank Irvine and Herb Fitz Gibbon, as Dick Squires offers his congratulations.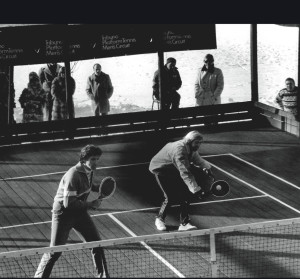 During one of the Tribuno Tour events, Hank Irvine hits a service volley while Herb Fitz Gibbon closes in on the center. This team dominated several of the Tribuno tournaments and won the Nationals in both 1977 and 1978