(1893 -1959)

Honor Award Induction: 1965

Hall of Fame Induction: 1996

Cogswell was a co-founder of platform tennis, and the first court was erected on his property on Old Army Road in Scarsdale, NY. He discovered the paddles and balls used in paddle tennis, which made the game we know today. With the Cogswell's hospitality the court became a lively gathering place for enthusiasts. This social aspect has been a hallmark of the game ever since.

As a trained engineer and an enthusiastic builder of things from fences to boats, he was responsible for many of the technical improvements in court construction, and developed the first set of construction drawings that were essential for the growth of the game. (Fox Meadow Tennis Club).
Cogswell was the driver behind researching solutions to initial technical issues with the first court, such as warped boards, improved wire screening—except for the Evans backstop—court dimensions, and adding lights to expand the hours of play, and then in bringing all these innovations to a brand new second court that also included the first Evans backstop, which was installed during the winter of 1934-35. Camaraderie was always Blanchard's and Cogswell's vision of the game and in typical Cogswell fashion, the building of the second court was preceded by a grand party with dancing on the deck of the soon-to-be-demolished first court.
Cogswell's engineering background was critical for the development of the detailed construction specifications and drawings needed to construct a standardized permanent court and, for a number of years, he was the sole source of the plans for anyone interested in building a court.
Jimmy Cogswell was born in Portsmouth, ME. An aptitude for building things emerged early in his life and as a teenager, he constructed a fence that reportedly still stands today (2012)
After graduating from high school Cogswell pursued his engineering bent at Yale's Sheffield Scientific School, graduating in three years in 1913.
Following graduation, he devoted a year traveling the world and then joined the US Army and served in WWI. Towards the end of the war (date?) he married his hometown sweetheart, Francesca Pickering Heffenger (1893- ?,) and after hostilities ceased he set out to Canada to pursue a career in the mining industry (Dominion Mines was a coal mining operation in Nova Scotia – is that where he went?). It turned out that Francesca was not in favor of this career choice and declined to join him. Cogswell reluctantly moved back to the US, settled in the Edgemont section of Scarsdale, NY, at 105 Old Army Road and embarked on a totally different career as a national account salesman for Wellington-Sears, a leading textile company at the time. This was fortunate incident number one for the game as, when Blanchard move to Scarsdale from Boston, the families not only became neighbors, but also had the breadwinners employed in the same field.
Fortunate incident number two for the game was Cogswell's abiding interest in building and, when he and Blanchard decided to pursue a winter sports activity, he became the designer and builder of the first court. It was constructed on his property overlooking Ardsley Road in Scarsdale. And, fortunate incident number three came when Cogswell discovered the paddles and balls used in paddle tennis and decided to bring them home to try on the new court. This discovery made the game as we know it today.
While working on the many court construction issues Cogswell enlisted help from Professor Eliot Dunlap Smith at his alma mater, who owned a court himself. Smith aided in researching questions of wood quality for decks with the aid of Yale's Department of Forestry, and from a Scarsdale architect, Richard H. Tatlow, who help improve the original Cogswell specifications and plans.
Cogswell's detailed plans for court construction were provided for free in the early days, usually to friends, and then at a nominal charge. Without these standardized construction documents, the game would have never had grown as it did in the early years.
The Cogswells and Blanchards formed the core of the group of paddle enthusiasts that gathered around the Cogswell court to play and enjoy each other's company. They called themselves The Old Army Athletes (O.A.A).
Blanchard recalls, "We often had a gallery of twenty-five or more men, women and children, most of them waiting their turn to play. This called for organization. One bench, erected under the supervision of the gang boss who had directed the platform project, Cogswell by name, was soon followed by two more. And in the nearby Cogswell cellar there began the accumulation of a collection of bear rugs, coonskin coats, and army blankets, many of them donated by members of the O.A.A. From October to April, beginning in the winter of 1928-29, hardly a weekend or holiday went by without a gathering of the athletes. Jimmy and I would assume the job of trying to give everyone a chance to play, including ourselves, and we would attempt to arrange matches that would be as even as possible.
After each afternoon's play we would usually gather in the Cogswell living room, where Jimmy's wife, Francesca, would serve tea and toast. These teas, the O.A.A. parties that we organized, and the many warm friendships that came from our platform tennis were among the many things we owe to our game."
Cogswell was a founding member of Fox Meadow's Paddle Committee (Cogswell, Gatchell, W.C. Harrison and Blanchard; except for Harrison they were all inducted into the Hall of Fame in 1965) when the Club' s first court was opened on November 1, 1931, and later served as President of Fox Meadow in 1939. The founding members of the Paddle Committee, with the exception of Blanchard, had joined Fox Meadow because of the commitment to the new game and they brought with them the spirit and camaraderie they had developed among the Old Army Athletes. This esprit de corps has been a hallmark of Fox Meadow ever since.
Upon retirement, Jimmy moved back to his boyhood roots in Maine and settled in Kittery, where he proceeded to build a retirement home and accompanying barn. He used the latter to pursue his hobbies that had expanded to included building a dinghy. He acquired a classic Down East open lobster boat and embarked on a retirement career as an avid amateur lobster fisherman. He died suddenly one morning in 1959 while attending to his lobster pots and was buried at the First Congregational Church in Kittery Point, ME. Blanchard's second book on the game, Platform Paddle Tennis, which was published that year, was dedicated to his memory.
Source: Fessenden S. Blanchard, Platform Paddle Tennis, 1959
Footnote: Cogswell's father, Rear Admiral James Kelsey Cogswell (1847-1908), was an executive officer of the battleship Oregon during the Battle of Santiago de Cuba in 1898 that resulted in the destruction of the Spanish Fleet during the Spanish-American War. Cogswell had two siblings, Francis (1887-1939), later a Captain in the U. S. Navy and a recipient of the Navy Cross for service in WWI, and Bianca. The WWII Fletcher-class destroyer USS Cogswell was named to honor both Admiral Cogswell and Captain Francis Cogswell; she was decommissioned in 1969. Cogswell's son, James Kelsey Cogswell, III (xx-1983), was a gunnery officer on the USS Cogswell when she was commissioned in 1943, and served aboard her for the duration of WWII. He received a citation for his part in the demilitarization of Japan.
Cogswell's daughter, Theodora ("Do") Deland, won two Women's Nationals in 1962 and 1965 with partner Susan Wasch, both of whom were Fox Meadow members. Susan, the daughter of Madge Childress Beck, was a third generation member of the club's Childress dynasty.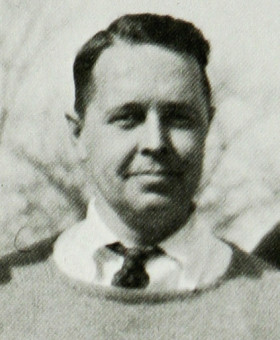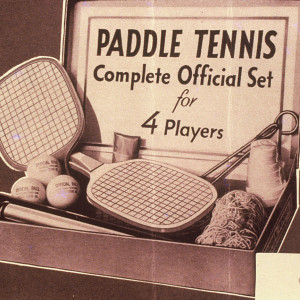 A late-1920s boxed set of paddle tennis equipment, similar to the one James Cogswell brought home to try them out on the first court built on his property in Scarsdale, NY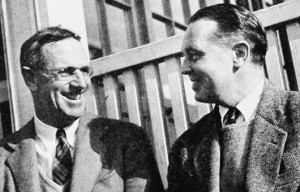 Fessenden S. Blanchard (left) and James K. Cogswell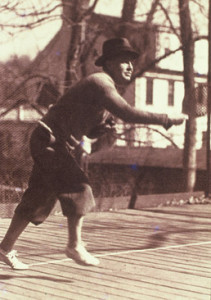 James K. Cogswell on the first platform paddle tennis court erected on his property