Hall of Fame Inductees: Gloria Dillenbeck Dodd, John Mangan, Pat Butterfield, Herb Fitz Gibbon, and Doug Russell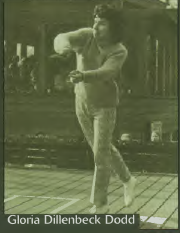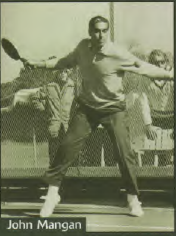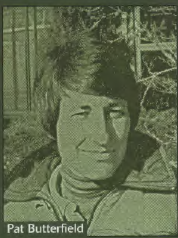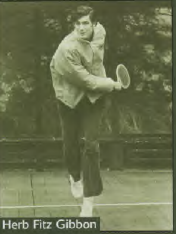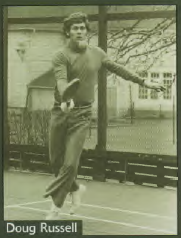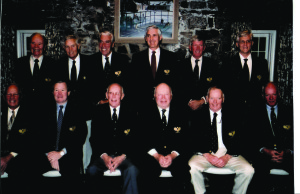 On a rare occasion twelve members of the Platform Tennis Hall of Fame were assembled at the induction ceremony.
Standing:
Chuck Baird, Bob Kingsbury, John Mangan, Herb Fitz Gibbon, Hank Irvine, Doug Russell.
Seated:
Howard Sipe, Steve Baird, Bob Brown, Chuck Vasoll, David Childs, Bill Childs.
[click to enlarge]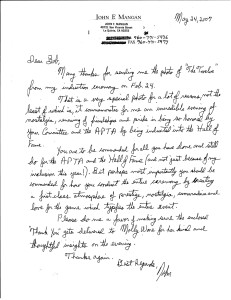 [click to enlarge]
Gloria Dillenbeck Dodd was the first Executive Director of the APTA and served from 1975 to 1981, setting a bar for her successors that continues to challenge them to this day. Dodd took the sport on the road, showcasing it in locations from Hilton Head to New Canaan. She was instrumental in the creation of the President's Cup and recruited people of influence such as New Jersey Governor Brendan Byrne to play in competition. Despite all of the back-end support she gave the APTA, Dodd was also an accomplished player, competing in five consecutive finals between 1969-74, and winning three titles in a row from 1971-73 with her partner, B.J. DeBree. Dodd also played the finals of the 1974 and 1975 Mixed Nationals with John Mangan.
John Mangan was honored not only for his exemplary court performance but his duty on the APTA Board. He won the Men's Nationals with Bob Kingsbury in 1972 and 1973 and the duo were runners-up in 1970, 1971, and 1975. They also won the first prize money tournament ever – 1973 Sea Pines Resort in Hilton Head. Mangan and Kingsbury also had the distinction of winning the first nationally televised tournament – 1974 Amelia Island, FL, which was broadcast on CBS Sports Spectacular. Mangan, known for a crushing, top-spin forehand, was a Mixed Nationals champ with Mrs. David Harris, and a Mixed Nationals runner-up with Gloria Dilenbeck Dodd. Still competitive in 1980, Mangan came back to win the Indoor Men's Nationals with John Adams.
Patricia Ann Butterfield was a force to be reckoned with through the 1980s. In the span of 1982-88, Butterfield was in six of seven Women's National Championship finals. She won three times and was a finalist three times. She enjoyed a top ranking through most of her playing career and was known for her forehand drive as well as a stong backhand volley. Beating Butterfield was a badge of honor that few could boast about earning. Her speed was another hallmark that kept her ranking high and her competitors at bay. Butterfield took her talent in stride and was never unapproachable in the sport. Gracious and sportsmanlike, Butterfield conducted herself as a true ambassador of platform tennis. "Pat was one of the first people, for me, whom I really enjoyed watching and learning from," said Robert Fulton. "I got anunderstanding from her of the true spirit of platform tennis with the great sportsmanship that seems inherent in the game."
Herb Fitz Gibbon started his platform tennis career at Princeton as a star tennis player. He later played on the U.S. Davis Cup team. In 1973, with partner John Beck at his side, the team dominated every event they competed in during the 1973-74 season, including the '74 Men's Nationals. Fitz Gibbon came back in 1975-76, winning two Mixed Nationals with B.J. DeBree. The duo were finalists again in 1977 Fitz Gibbon also cleaned up the 1975-76 Tribuno Tour with teammate Hank Irvine. They won the inaugural event in Cleveland and were finalists in two other Tribuno Tour events. They took the Men's Nationals in 1977, 1978 and were finalists in 1980. Fitz Gibbon's height and powerful serve returns left opponents quaking and devising ways to sidestep his force. The innovative strategies even included a desperate attempt by one team to serve Fitz Gibbon's team underhand to defuse
his explosive returns.
The final inductee, Douglas Sands Russell, like many platform players, was an accomplished tennis player, graduating from the University of Georgia in 1966 as captain of his team. He entered the world of platform tennis in the 1970s and won the 1976 Tribuno World Championships with Gordon Gray at Forest Hills. He and Gray were finalists in the Men's Nationals in 1977. That same year, Russell and Hilary Hilton were Mixed Nationals champions. The two went on to win the Mixed Nationals from 1979-82. Russell and Clark Graebner took the 1979 Men's Nationals. He returned to win the same event in 1984 with Bob Kleinert. That pair were finalists in 1982, 1983, and 1985. Off the court, Russell worked with the APTA to reactivate the Men's Singles Championship, which was dormant since 1937. He went on to win the event five times between 1980 and 1987 He ran the Manhattan and Apple Platform Tennis Clubs and even had his own Marcraft signature paddle, a first for the sport. Russell put his expertise on paper and published a book and numerous articles about platform tennis, not to mention starting up a Professional Platform Tennis Teaching Association. Playing today in the senior circuit, Russell continues to win. With partner Hank Irvine, he won the 55+ Nationals in 2001 and 2003 as well as the 60+ Nationals in 2004, 2005 and 2006.
The ceremony for Mangan, Fitz Gibbon and Russell was held at the Men's Senior National Championships at Fox Meadow Tennis Club, Scarsdale, NY. Inductions were delivered by Hank Irvine (Hall of Fame Inductee, 1995), Bob Kingsbury (Hall of Fame Inductee 2003) and Steve Baird (Hall of Fame Inductee, 1999). Also in attendance was Molly Blanchard Ware, daughter of Fessenden Blanchard, who in 1928 with James Cogswell, invented the sport we know today.
In a statement written about the occasion, Molly Blanchard Ware said she was happy to see these new members and their colleagues speaking eloquently about the "old times",their encounters with each other, and the importance of platform tennis on their lives. "I've watched Doug, John and Herb over the years, as well as those who partnered with them and delivered the inductions. It was a pleasure to witness the outpouring of sentiment about each other, about the game and how it has affected peoples' lives," she wrote. "It was truly memorable. If you weren't able to come, you missed something very special."
Source: Robert A. Brown, Platform Tennis Magazine, Vol. 9, Issue 2, December, 2007