(1931–2003)
Hall of Fame Induction: 2003
Sleepy Hollow Country Club: March 1, 2003 Squires was a fine player winning the Men's in 1966 and adding two Men's 45+ titles, but where he made his mark was as an outstanding promoter who helped take the game on a growth spurt never seen before or since. "Mr. Paddle" wrote about the game, published books on the game, produced instruction films about the game, built courts, endorsed attire, conducted clinics and dreamt up and found sponsors for an exciting new tournament that CBS Sports televised for its
Sports Spectacular
show. He also opened the first commercial platform tennis facility on a roof-top in New York City.
Though Richard C. Squires was a fine player, winning the Men's title in 1966 and later adding two Men's 45+ titles, he made his mark on the game as an outstanding promoter who helped take it on a growth spurt never seen before or since. When Life Magazine put paddle on the cover of a 1967 magazine, you could sense that something was about to happen in terms of the game becoming the "in thing." What the sport needed, however, was a flamboyant advocate and showman who could lead the growth and become a catalyst for opening new frontiers. Squires did exactly that and broke a few eggs along the way. "Mr. Paddle" wrote about the game, published books on the game, produced instruction films about the game, built courts, endorsed attire, conducted clinics and found sponsors for an exciting new tournament that CBS Sports televised for its Sports Spectacular show. He also opened the first commercial platform tennis facility on a roof-top in New York City.
Born in New York on September 27th, 1931, Squires spent four years of his childhood in Scarsdale before his family settled in suburban Bronxville, NY. In his book, One Moment at a Time: A Love Story, which was dedicated to his wife Joan, Squires recalls his youth, writing that "while attending high school I was a four-letter athlete and a one-letter student (straight Ds)." However, after a less than spectacular academic career in high school, Dick made the Dean's List at Williams College, while also winning the tennis singles title four times and the squash title twice. He was a New England intercollegiate singles and doubles tennis champion, as well as a two-time finalist in the National Intercollegiate Tournament in squash. In 1949, Squires, and Gil Bogley won the U.S. Junior Doubles championship and he ended the year ranked sixth in the nation in the 18s singles. The following year, he was named to the U.S. National Junior Davis Cup squad. His tennis coach, Clarence C. Chaffee, said Squires was "the finest all-around racquets athlete" he ever coached. His legacy lives on at Williams College with The Squires Cup, which is "awarded annually to a talented varsity Williams College racquet-wielder who exemplifies leadership by selflessly sharing his or her on-court skills with teammates."
Despite a bad back that plagued him throughout his lifetime, Squires claimed a national championship in squash in 1953, before winning the Men's Nationals in paddle in 1966 with Ted Winpenny, Jr., and two more platform tennis titles in the Men's 45+ (1976, 1983). His game was a tricky combination of dinks, with attacking charges, lightening quick reflexes around the net, and surprise lobs. But, he made his mark on the game more as a swashbuckling promoter, a mission for which he put his career and livelihood on the line. Dick wore pink sweaters, a "paddle glove," and hit shots from behind his back in the fifth set of the finals. He had big dreams and relentlessly kept trying to take the game forward. Though paddle never quite made the big-time and took on a different energy level, and Dick eventually moved on to other roles in life, no man or woman ever pushed the game so intensely and in so many exciting directions. He became the paddle entrepreneur, as writer and book publisher, instructional film producer, and court builder. Squires endorsed a line of paddles, shoes and clothes bearing his name, and did paddle exhibitions all over the country, conducting 43 of them over one 18-month period. His nickname soon became "Mr. Paddle" wherever he was introduced. His colorful personality and success in pushing the sport earned him a three-page feature story in the December 20th, 1976, edition of People Magazine, that featured the rock group Led Zeppelin on the cover.
The mid-70s were a high point for both Squires and the sport. In 1973, after identifying Seagram's as the tournament sponsors for the first invitational event, held in Hilton Head, SC, he held a cocktail party the night before, and did the draw live, straight from the hat. Each of the sixteen players received the first-ever paddle jackets, and, true to form, they were bright yellow. The next year, the event was held at Amelia Island and the new jacket had a big patch on the front displaying its newfound sponsor—Mercedes Benz. CBS Sports televised both events for its Sports Spectacular show. Such excitement was created that, shortly afterwards, the then #1 tennis player in the world, Stan Smith, entered the Short Hills tournament and the stands were jammed packed.
Dick was a longtime resident of Rowayton, CT. He died of emphysema at 72.
Source: Steve Baird, Induction remarks & Obituary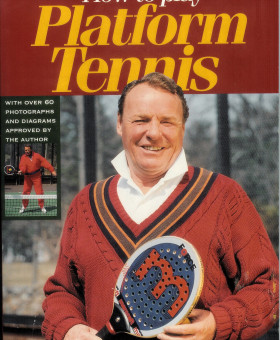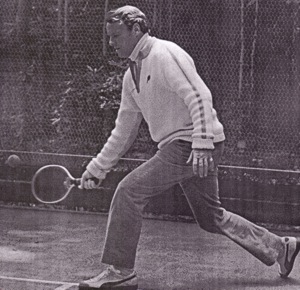 Richard C Squires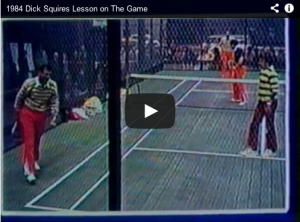 Squires Instructional Video